Strongheart, a real movie-star dog, acts out a movie scenario in this fun tale.  Ages 7-11
Strongheart: Wonder Dog of the Silver Screen by Candace Fleming with illustrations by Eric Rohman.  Schwartz & Wade, 2018, 233 pages
Reading Level: Middle Grades, ages 8-10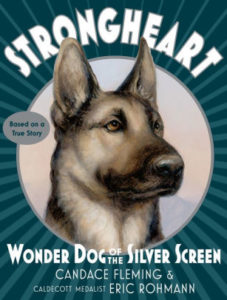 Recommended for: ages7-11
Once he was a puppy, cuddled with his mother and siblings in a happy heap.  Then the man from the police academy came and picked him for his size and intelligence.  The puppy, grandly named Etzel von Oeringen, received harsh training designed to make him charge and snap on command and not trust anyone.  The training made him a good police dog, possibly the best in Berlin.  But then the man from America visited, and recognized in the big German shepherd an emotional intelligence even more impressive than his size and strength.  Larry Trimble had finally found what he had searched two continents for.  He was going to make this dog a star!
"Based on a true story," Strongheart indeed became a silent movie star in the 1920's; in the appendix readers will find photos to prove it, and his one surviving movie, The Return of Boston Blackie, can still be seen on YouTube.  But it's unclear whether he came from Berlin or Ohio. Probably the latter, but the continent makes a better story.  What spins out from that somewhat apocryphal beginning is exactly the kind of gee-willikers tale American boys and girls would have lined up for outside the Bijou Theater on a Saturday afternoon in 1925.  It's told in a breezy style peppered with early-century slang like "hoity-toity" and "applesauce" to indicate skepticism.  Strongheart was never actually accused of a capital crime and saved from a life sentence by scruffy boys from the orphanage, but it makes a cracker-jack story.  If any sourpusses want to crab about veracity, just say "Applesauce!" and enjoy a fun read.
Cautions: None
Overall rating: 4 (out of five)
Worldview/moral value: 3.75
Artistic value: 4.25
Talk amongst yourselves...