A delightful journey into the jungle awaits Francis the Donkey on his quest to make new shoes for his favorite Calypso singer.
*New Shoes by Sara Varon.  First Second, 2018, 208 pages
Reading Level: Middle Grades, ages 8-10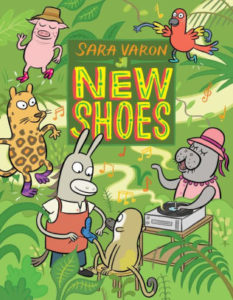 Recommended for: ages 4-8 (as a read-aloud)
"Francis had wanted to be a shoemaker since he was a young foal.  As a grown donkey, it was his aspiration to make the best shoes he possibly could."  His community contributes supplies: coconut wood for the soles, wool for padding, and tiger grass for the uppers.  Nigel the spider monkey supplies the very best tiger grass from deep in the jungle, and the chickens downstairs weave it into strong sturdy material.  Francis adds creative touches to his craftsmanship and his fame has spread far and wide.  One day an alligator walks into the shop to commission shoes for Miss Manatee, Francis's favorite calypso singer, to wear at her upcoming concert.  It's the highlight of his career.  But oh no!  Nigel hasn't returned from his last tiger-grass-gathering expedition!  It looks like Francis, who's never left his happy village, will have to venture into the jungle to find his friend.  And the tiger grass.
This delightful story (in six graphic novel chapters) takes readers on a tour of South American flora and fauna as the hard-working donkey finds his friend, expands his community and meets new challenges.  Such as, how to make shoes for a manatee when manatees have no feet?  He'll have to think outside the box for that one, and while he does, readers and listeners will learn something about South America, the work ethic, separation of labor, and honest business practices.  The author/illustrator includes pictures of Linden, Guyana, the model for Francis's village.  It's sweet, funny, and crafty—a winner!
Cautions: none
Overall Rating: 5 (out of 5)
Worldview/moral value: 5
Artistic value: 4.75
Please follow and like us: