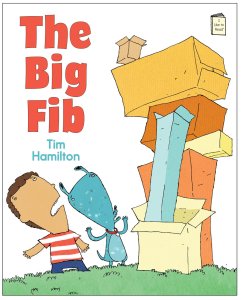 The Big Fib by Tim Hamilton. I LIKE TO READ series. Holiday House, 2014. 32 pages.
Reading Level: Easy/Leveled Readers, ages 4-8
Maturity Level: 1, 2 (ages 0-4, 4-8)
New readers will easily be able to read the many one-syllable words in this cautionary tale full of quirky illustrations. The nameless boy and dog make creative use of their elderly neighbor's discarded cardboard boxes, but in the process they make quite a mess. When Miss Finn sees the mess and asks who made it, the big fib emerges. After guiltily watching her laboriously clean up their mess, the boy and dog confess. All's well that ends well as the boy and dog befriend old Miss Finn. Illustrations add nicely to the sparse text, and children will readily identify with the box-playing antics, the temptation to tell a lie, and the delightful resolution of the story.
Cautions: none
Overall Value: 4.5 (out of 5)
Moral/worldview value: 5
Artistic value: 4
Categories: Easy/Leveled Readers, Picture Books, Character Values (honesty), Entertainment
Cover image from amazon

Stuck at home? Enjoy our FREE Christian read-along adventure for all ages with lots of book ideas, discussion questions, and more!
Reading Ahead for You
Reviews and Resources Weekly in Your Inbox