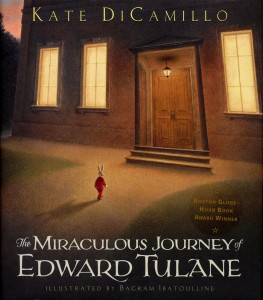 Last year about this time, I did a vacation audiobook post. I'm actually on vacation myself right now, so I can't do as thorough a list for you guys today. But here are a couple of audiobooks my kids and I have enjoyed recently. And if these aren't enough to get you going, see the links at the bottom for our previous audiobook lists.
Runaway Ralph (Ralph S. Mouse): My youngest daughter has always hated audiobooks…until Ralph.  I think of this as a typical boy book about a mouse and his motorcycle, but then my youngest has a more analytical mind than my older daughter, and for whatever reason, she was hooked from the first minute.  Some of Cleary's works aren't in my good-for-kids list, and there is some rebellion in this one.  But on the whole, this series wasn't bad and it was really beneficial in opening the world of audiobooks for her.
The Miraculous Journey of Edward Tulane: We're listening to this one on our trip this week.  So far the kids like it, but I'm not sure it's DiCamillo's best work.  My favorite of hers is definitely The Tale of Desperaux.  She has such a classic kids' book feel about her writing, with all the good and bad that implies.  In Edward Tulane, the plot seems to be that a icey-hearted ceramic bunny comes to really live and love through the many trials and tribulations that come after he is tossed over the side of a ship by some careless young boys.  It has a stilted feel to the writing, mainly because we spend so much time in Edward's stuffy, unfeeling mind.  But some of his adventures are quite colorful, including the people he meets (i.e. the King of Trash).
Pippi Longstocking:  An oldie but goodie.  I don't remember reading this as a kid, but my girls were mesmerized.  Pippi is daring and zany enough that I think she's keep a little boy's attention, as well as keep from grating on adults' nerves the way a lot of Modern stories for kids do.
Rain for Roots: This is an audio CD, but it's based on classic bible stories for children.  (Inspired, I'm told by one of the writers, by a kids' Bible by Sally Lloyd Jones.)  You can pop this in while your kids are reading their story Bibles, and help get them excited about God's word.
Wish I had time for more!  But, alas, it's time to start my vacation fun!  Here are our other two audiobook posts for a more thorough list of our favorites: 1) Ten Vacation Audiobooks for the Whole Family, and 2) Winter Audiobooks (and More) for Kids.  Do share any favorites if you have any!  I'm always looking for good new books or ones I've forgotten!
More than 75 books for children and teens, all about islands, oceans, and more. Bonus: get a free hand-drawn reading tracker!
Reading Ahead for You
Reviews and Resources Weekly in Your Inbox