Annual Reading Challenge for Kids and Teens
The 2021 Reading Challenge for Kids and Teens is here!
WHY DO A READING CHALLENGE?
read more intentionally and stretch yourself as a reader

diversify your reading (or your child's)
WHAT SETS THE REDEEMED READER READING CHALLENGE APART?
kid-friendly: all categories can be "checked off" with picture books, middle grades books, young adult books, or adult books

all books count (books for school, picture books, graphic novels, fiction/nonfiction, read alouds, and more)

Christian categories (such as a book about missions) alongside categories like realistic fiction or mystery

lots of variety in genre, book length, publication date, and more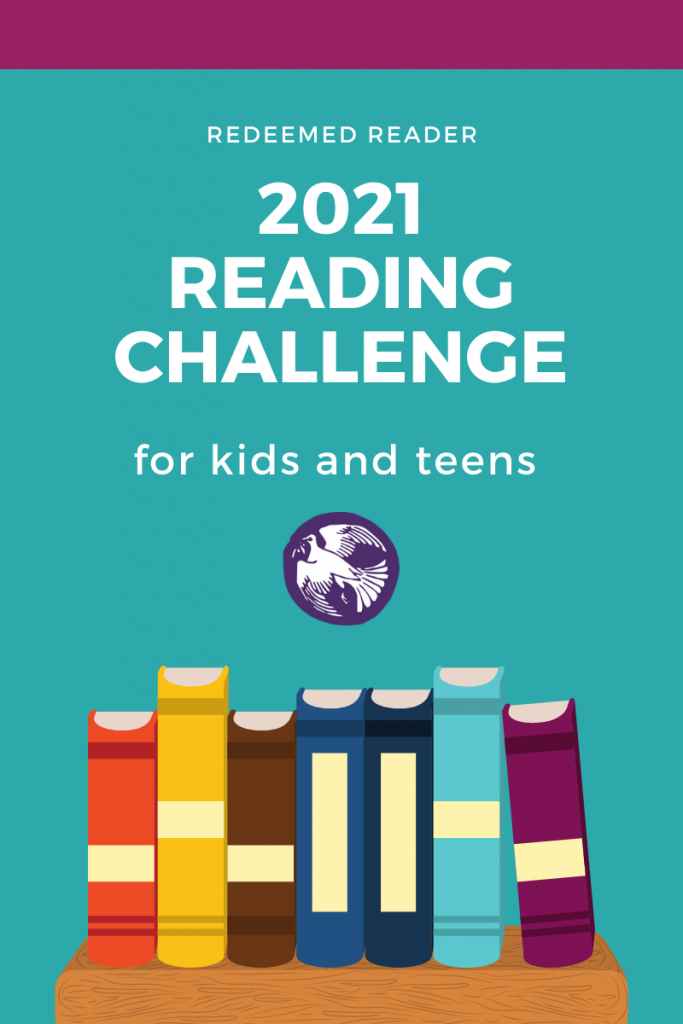 If reading challenges were salads...
KALE SALAD READING CHALLENGES
Nutritious and hearty: full of "books-worth-reading" and plenty of daunting categories. These are good for you and often pretty, but do kids fall in love with reading?
JELL-O SALAD READING CHALLENGES
Sweet and fluffy: fun but usually involves extrinsic rewards and the encouragement to "just read, read anything." These are sweet, but they lack lasting value.
GOURMET SALAD READING CHALLENGES
Well-balanced and complex, with A little something sweet on top: old books and new books, light reading with meatier reading, and plenty of open-ended options. 
The Redeemed Reader Reading Challenge is the gourmet salad of the reading challenge world: fun and rewarding with books for everyone.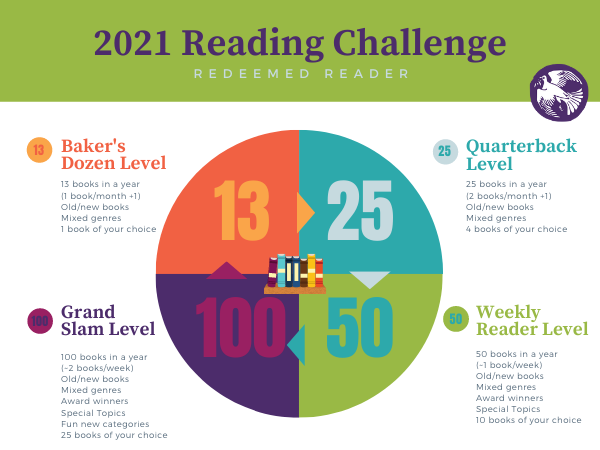 Our 2021 Reading Challenge for Kids and Teens is better than ever! Since we say this every year, what really IS new this year? 
MORE FREE CHOICE CATEGORIES
After a year like 2020, in which libraries were closed and book availability was unpredictable, we realized we needed more free choice options than ever, particularly for the bigger challenge levels. After all, reading nearly 100 books in a year is quite an accomplishment! We don't want kids or teens weighed down because they missed a particular category.
BROADER CATEGORIES
Some categories are now broader to make them easier to accomplish. For example, fantasy/sci-fi is now "imaginative literature" which encompasses not only fantasy and science fiction but also: mythology, folklore, dystopian,  talking animal stories, magical realism, allegory, .... 
MORE COLORFUL TRACKERS AND RESOURCES
You asked, and we got to work! Our free challenge is still essentially the same in terms of appearance. But now, for one low price, you can upgrade to the Premium Reading Challenge package: colorful, vibrant trackers, awards certificates for completion, and promotional flyers all in one package deal. Print off as many as you need.
Level Up: Get the Premium Reading Challenge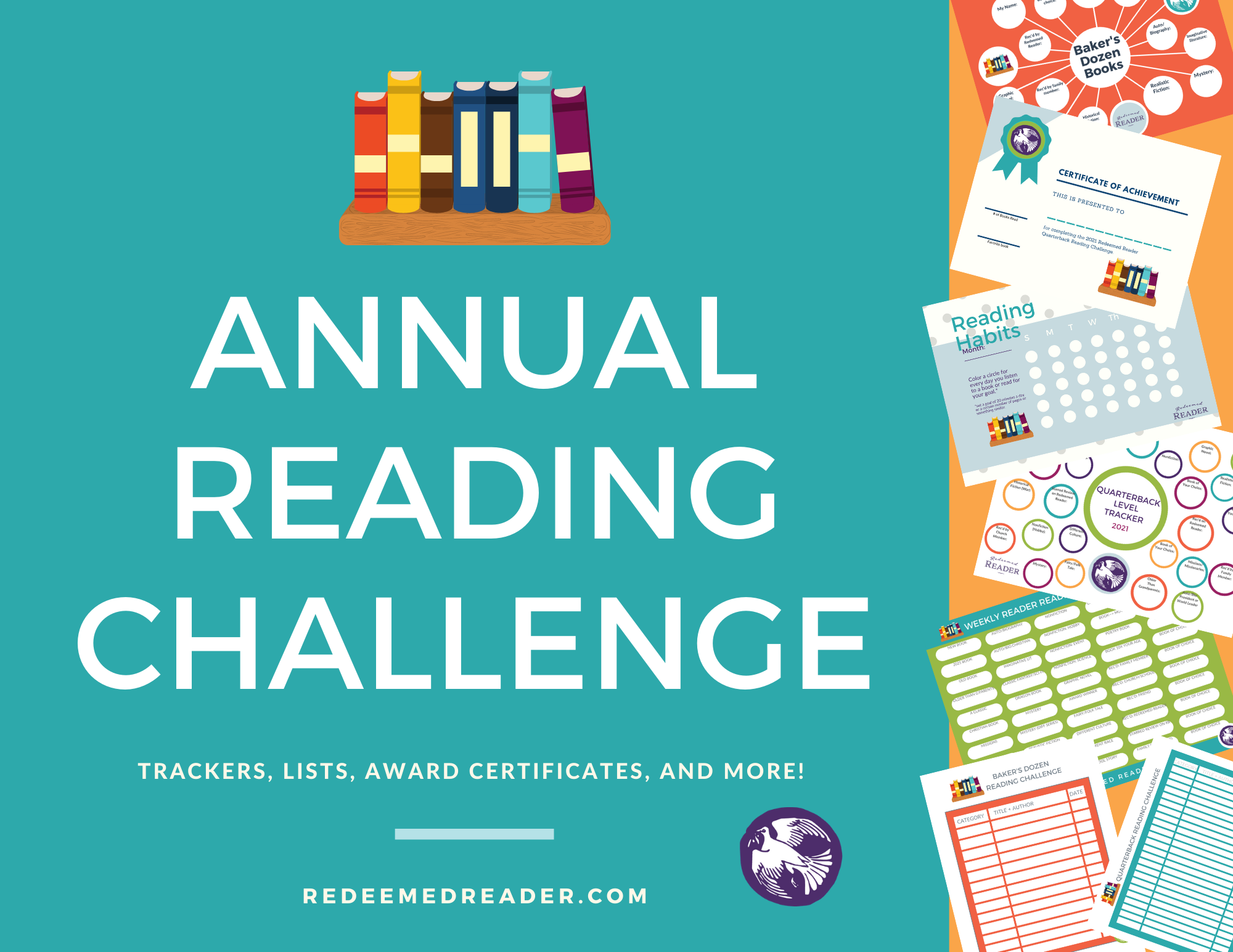 The free/basic version of the Reading Challenge includes everything you need to successfully attempt the challenge level of your choice: a list of categories for each level that includes links back to Redeemed Reader for particular categories.
The premium version of the Reading Challenge takes it to the next level with plenty of colorful, kid- (and teen-) friendly trackers, award certificates, promotional materials, and more!
Reading Challenge Inspiration Gallery
Curious what a "completed" reading challenge would look like in terms of actual books? Check out our inspiration gallery below.
Fine print: Most of these books have been reviewed on Redeemed Reader. Remember to check out reviews of unfamiliar books before handing them to a child.