The Mother-Daughter Book Club series wraps up with all five members of the club serving as camp counselors together before launching their adult lives.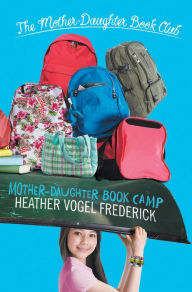 The Mother-Daughter Book Camp by Heather Vogel Frederick.  Simon & Shuster, 2016, 321 pages
Reading Level: Middle Grade, 10-12
Recommended for: ages 11-16 (especially girls)
Emma, Jess, et al., take one last book-club bow, and why not?  Senior year is just past and they're launching their adult dreams: most to college, one as far as British Columbia, and who knows when they'll all meet again?  In this book the moms take the background, and the daughters become pseudo-moms to the 7-to-9-year-olds at Camp Lovejoy, New Hampshire.  This is a six-week sleepaway camp meant to broaden young horizons, but during the first week the little ones are too homesick to broaden anything but trash bags with used Kleenexes.  Luckily for them, their counselors have learned one lesson well—nothing cures the homesick blues like a book club. Let's all read Understood Betsy by Dorothy Canfield Fisher!
Understood Betsy gets shorter shrift than the other classic titles in the series, because there's so much else going on.  Every week the camp has a new special focus, project, contest or traditional activity.  At the same time, the book club girls are touching base with their pals from Wyoming (Dear Pen Pal, vol. #3) and boyfriends old and new.  Even Truly Lovejoy, of the author's Absolutely Truly, makes a cameo appearance.  There's no single driving narrative: it's more like a scrapbook of favorite memories, fading as the pages turn.  If you haven't read any of the earlier books, this one will seem perfunctory, but if you've grown attached to the girls you'll enjoy seeing them off to bigger things, fortified with the unique consolations of classic literature.  As Emma says, "The world is waiting."
Cautions: Worldview (though church is a factor, the religion is classic New England do-gooderism, rather than traditional Christianity)
Overall rating: 3.5 (out of 5)
Worldview/moral value: 3.75
Artistic value: 4
Categories: Teen, Middle Grade, Realistic Fiction, Character Values
(Cover image from Barnes & Noble)