*Tops and Bottoms written and illustrated by Janet Stevens. Harcourt Brace, 1995. 32 pages. Reading Level: Picture Books, ages 4-8 He who has a slack ...
Read More

→
The book of Proverbs is full of instructions for the simple to obtain wisdom and avoid disaster. Stories about tricksters demonstrate common-grace examples of using ...
Read More

→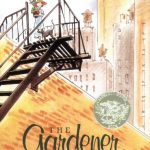 Lydia shares her efforts to bring beauty to the world around her in this epistolary picture book. *The Gardener by Sarah Stewart and David Small. ...
Read More

→