The NLT Hidden in My Heart Bible takes a three-pronged approach to scripture memory, with alternative translations of key scriptures.
NLT Hidden in My Heart Scripture Memory Bible. Tyndale, 2016, 1456 pages
Recommended for: ages 6-10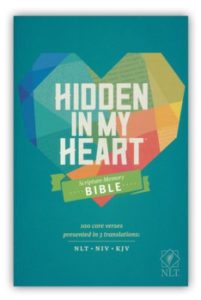 This New Living Translation Bible is in a class by itself; neither a study or devotional Bible per se (though with some elements of both), and much more than a reading text. The title clues us in: it's all about scripture memorization. The focus is on 100 key verses and short passages. These are highlighted in the text and presented in three translations: New Living, New International, and New King James.
A rub-off code on the title page gives the readers a unique URL where they can hear all 100 passages set to music. The songs (which I couldn't listen to because I don't have the URL) are written in several musical styles, such as African rhythm, blues, classical, contemporary, fast, and slow—something to suit every taste, presumably. Two song indexes in the appendix arrange the songs by age level and by musical style. "Explore & Apply" sidebars beside each memory text take a devotional form with a short meditation and prayer, while "Digging Deeper" features in the appendix include suggestions for parents and application questions that could be adapted for family devotions. Once kids have mastered the core 100 they can go on to 135 Challenge verses. Ten "Hide-It Helpers" scattered throughout the text provide memorization tips, and memory plans in the appendix arrange the verses by themes such as Who is God, God's Love, Jesus, Sin and Salvation, etc.
I see this as useful supplement rather than a primary study Bible, especially for families who like the New Living Translation. There are no pictures of Bible characters
Value: 3.5 (out of 5)
To browse our earlier reviews, click The Good Book under the Reviews tab, or type "Bible Reviews" in the search box on the right side of this page.  For a particular  translation, type "Bible Reviews" followed by the translation initials (NIV, NIrV, ESV, NKJV, etc).  Also see these helpful posts:
Our Comparison of Bible Translation
Choosing Your Child's First REAL Bible: Some Considerations