Milo Imagines the World, Outside Inside, and Off to See the Sea plunge readers into a child's eye view of public places, pandemics, and bathtime.
Milo Imagines the World by Matt de la Pena, illustrated by Christian Robinson. G. P. Putnam's Sons, 2021, 36 pages.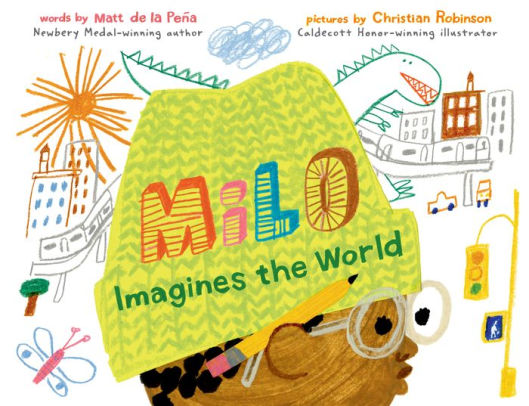 Milo is riding the subway with his big sister. It's going to be a long ride, and to keep himself occupied he tries imagining the lives of the people around him. His sketchbook becomes a record of his thoughts as he draws where they might be going as they get off the train. One lady is wearing a wedding dress, and as soon as she steps off the subway a band on the platform strikes up "Here Comes the Bride." Milo imagines her and her groom boarding a balloon and floating "beyond the concrete walls of the city, into the infinite blue." A boy about Milo's age is dressed in a suit with spotless white Nikes—could he be a prince, on the way to his castle? And are any of the other subway travelers imagining Milo's life? They would probably be wrong, meaning he's probably wrong about his speculations.
Milo's destination is the big reveal, and it's bittersweet. So is the whole book. This is the same team that brought us *Last Stop on Market Street, and Milo has the same ambience as that beloved Newbery classic. Parents, take note: In the three years since then, our culture has swung so far that, even though Milo first pictures the bride marrying a man, he later reimagines her with a female partner. Disappointing, but not surprising.
Overall Rating: 3.5 (out of 5)
---
Outside, Inside by LeUgen Pham. Roaring Brook Press, 2021, 38 pages.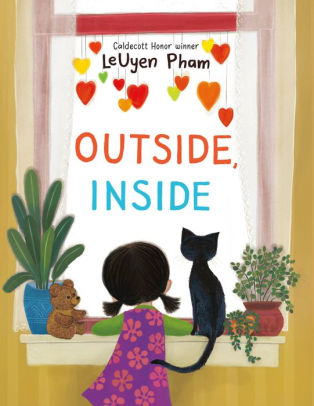 "Something strange happened on an unremarkable day just before the season changed." The streets that were so full of people just last week were suddenly empty. Not just in our winsome protagonist's neighborhood, but all over the world. Outside, empty playgrounds and imaginary fences. Inside: waiting, laughing, worrying, crying. Why? The simple text doesn't explain about the novel corona virus that threw the whole world into a tailspin. Deeper explanation is left to the warm illustrations: hospital scenes, family groups spending time together (inside, of course), and stark contrasts between outside and in. It's a child's view of the pandemic, presented in a way that's easily accessible to a five-year-old, sad at times and yet hopeful. A spectacular double-page foldout brings the book to an end, showing spring in full bloom and people outside again–laughing, playing, and hugging.
Overall Rating: 4.5
---
Off to See the Sea by Nikki Grimes, illustrated by Elizabeth Zunon. Sourcebooks Jabberwocky, 2021, 30 pages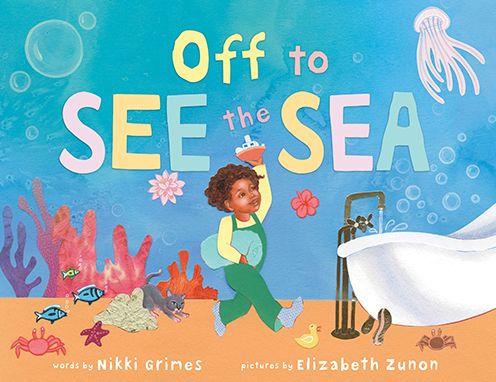 Reading Level: Picture Book, ages 0-4
It's bathtime! And every free-spirited 3-year-old knows what that means. First, run and hide. Next, let yourself be found and lured into the tropical paradise otherwise known as the bathtub. Ducky monsters await, tugboats clash, and tsunamis splash on the bathroom floor. Somehow the little wiggle-worm gets washed and dried before getting scooped up by daddy and carried off to bed. The mixed-media pictures of mommy and child communicate a rollicking good time (though few mommies have this much fun with a squirmy toddler in the bathtub).
Overall Rating: 4
Also at Redeemed Reader:
We are participants in the Amazon LLC affiliate program; purchases you make through affiliate links like the one below may earn us a commission. Read more here.
Get Your Free Summer Reading List
Animal Stories for Kids and Teens
Our weekly newsletter includes our latest reviews, related links from around the web, a featured book list, book trivia, and more. We never sell your information. You may unsubscribe at any time.
Support our writers and help keep Redeemed Reader ad-free by joining the Redeemed Reader Fellowship.