A Year of Everyday Wonders paces a traditional family through small milestones and seasonal turnings.
A Year of Everyday Wonders by Cheryl B. Klein, illustrated by Qin Leng. Abrams, 2020, 40 pages.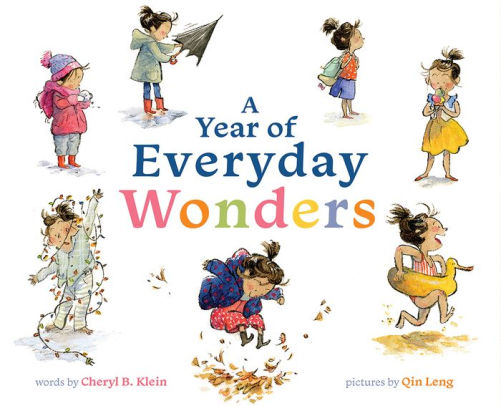 Reading Level: Picture book, ages 4-8
Recommended for: ages 3-8
How does a new year begin? With an ordinary day, or a day that seems ordinary, except that it's the first. Shortly after, the first waffles of the new year, the first fight with your brother (many more to come), first snowfall, first cup of hot chocolate to end the day. But that's not all. As we go through the year we experience more "firsts": Valentines, green grass poking through the melting snow, day at the beach, family reunion, cousins' pranks. And 226th fight with your brother. Then there's the first day of second, third, or fourth grade, turning leaves, trick-or-treat. Before you know it, we're winding up with lasts: last wake-up on Dec. 31, last bedtime story, last goodnight . . . before it's a new year again.
Soft watercolors pace this traditional family (dad-mom-brother-sister) through the cycle of time as they experience small milestones and seasonal turnings. Lots of brother fights, but lots of brother fun, too. Hurt feelings are mended, anticipations are met. Without an explicit exhortation to be grateful, gratitude nevertheless comes through, both in the new and in the familiar. A Year of Everyday Wonders is a comfy read-aloud and an introduction to the repetitive yet progressive nature of life.
Overall rating: 4.5
We are participants in the Amazon LLC affiliate program; purchases you make through affiliate links like the one below may earn us a commission. Read more here.
Support our writers and help keep Redeemed Reader ad-free.