The hero of Fly on the Wall hatches a daring scheme to remake his self-image.
Fly on the Wall by Remy Lai. Henry Holt, 2020, 329 pages.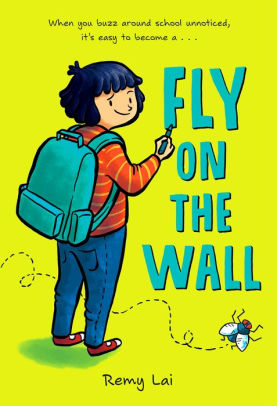 Reading Level: Middle Grades, ages 8-10
Recommended for: ages 8-14
Listen up, fellow kids: in your hands you hold the secret manual of Lone Wanderer Henry Khoo, age 12, whose family still thinks he's a WAH WAH WAH baby and "hovers over him so much he's like a heliport." But he's out to prove them all wrong by embarking on the greatest adventure everrr, just like the heroes of those Chinese martial-arts dramas his grandma is always watching on DVD. That is, all on his own, without telling anyone, he will embark from his home in Perth, taxi to the airport, board a plane, and fly to his father's home in Singapore as an unaccompanied (and unhovered-over) minor.
Seriously, kids, don't try this at home—or from home, as the case may be. Still, you'll be on pins and needles to find out if he succeeds.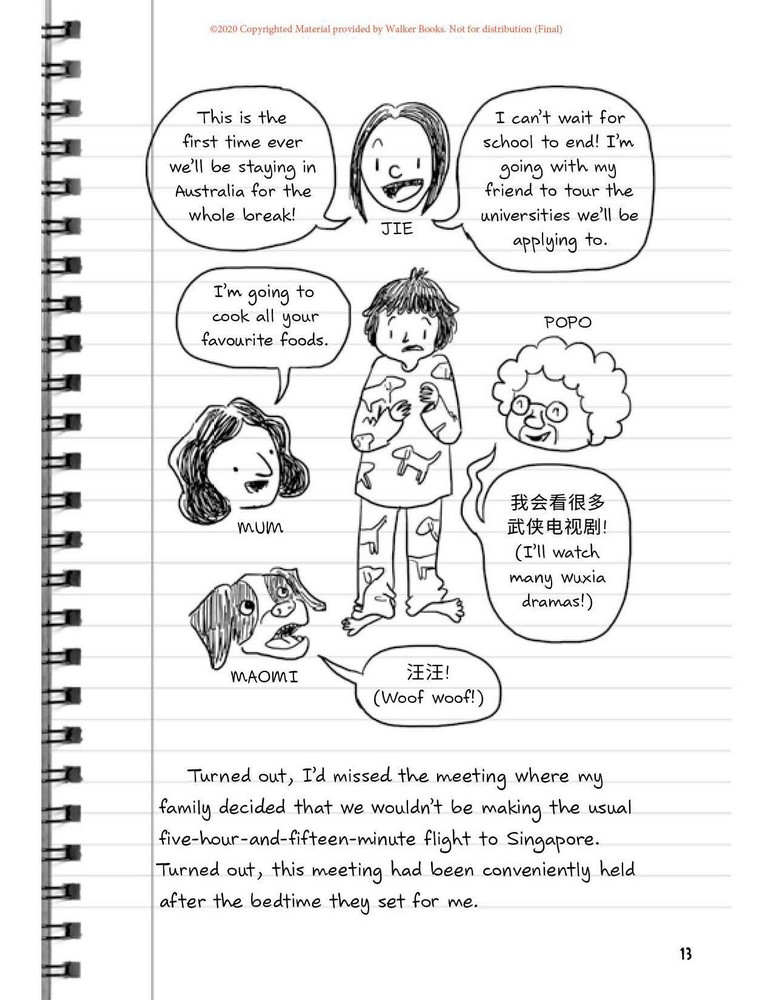 Henry, though he lives in Australia with his ethnically Chinese family (and a grandma who speaks only Mandarin), models that universal middle-grade mythos: how he imagines himself vs. how everyone sees him. Or how he thinks they see him. He sees plenty, which is why he started his web comic, "Fly on the Wall." "Fly," much to his surprise, has gone viral among the students at Chatswood School, but no one knows who Fly is. To Henry, this is both gratifying and terrifying, especially when someone going by the moniker "Frog in the Well" shows up in the comments, claiming to know who Fly is. Could it be his former best friend Phoebe? Or the nerdy Tim Aditya?
Needless to say, Henry doesn't know nearly as much as he thinks. Nor is he as insignificant as he thinks. "I didn't realize how much force is in each step I take until I stubbed my toe." That's something all kids need to learn, and the way Henry goes about it is both hilarious and touching. The cartoon-heavy, notebook-style narration made popular by the Wimpy Kid series turns out to be the perfect format for a hero who arrives at greater self-knowledge than Greg Heffley ever will.
Overall Rating: 4 (out of 5)
Worldview/moral value: 3.5
Artistic/literary value: 4.5
Considerations:
Though Henry is not especially religious, his family leans Buddhist and there are spiritual overtones in his quest.
At one point toward the end, Henry assumes, for no particular reason, that his classmate Tim has a crush on him. Tim responds to this assumption with uproarious laughter, as well he might.
Also at Redeemed Reader:
We are participants in the Amazon LLC affiliate program; purchases you make through affiliate links like the one below may earn us a commission. Read more here.
Support our writers and help keep Redeemed Reader ad-free.