Neverland spills into modern day life and sets two young people on a collision course in this YA fantasy.
Dust by Kara Swanson. Enclave Publishing, 2020. 368 pages.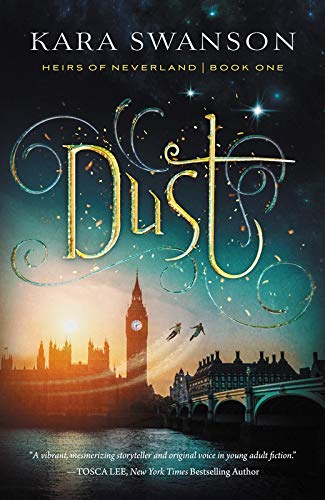 Reading Level: Young Adult, ages 16 and up
Recommended For: Ages 16 and up
Claire Kenton hates Peter Pan. She hates the storybook that so enchanted her twin brother —who is now missing. She hates herself, too, and the weird, dangerous flakes that fall from her skin. Hates herself enough that she tried to end everything, just before our story starts. But now she has a reason to live; she has finally tracked down a trace of her brother, Connor —he was last seen getting on a flight to London. Claire scrapes together enough money to follow. Once she arrives, she begins realizing that maybe the story of Peter Pan and Neverland wasn't a story after all. Maybe it's real. And this mysterious boy who knows so much about Neverland? Maybe she's falling for him, a little, too.
What would happen if Peter Pan kept refusing to grow up, year after year? What if some of the Lost Boys grew bitter? Swanson takes this idea and runs with it into a darker YA fantasy that leaves behind the storybook and pulls Neverland into the 21st century. Peter Pan has been banished to modern London, and Claire Kenton is his only hope. Told in the varying perspectives of Claire and Peter, readers know far more of what is going on —and can be exasperated by both characters alternatively. That said, Dust is an interesting series starter and unique in being a clean YA fantasy with no language and only mild romance. It will leave readers wondering what happens next.
Considerations:
Violence: some street fighting
Overall Rating: (4) out of 5
Worldview/Moral Rating: (4) out of 5
Literary/Artistic Rating: (3.5) out of 5
Note: This reviewer received an advance reader copy of the book in exchange for a fair review.
Related Reading From Redeemed Reader (H3)
We are participants in the Amazon LLC affiliate program; purchases you make through affiliate links like the one below may earn us a commission. Read more here.
Amazon link
Support our writers and help keep Redeemed Reader ad-free.