A fascinating historical look at globalization that covers botany, anthropology, politics, exploration, the slave trade, and more!
1493 for Young People: From Columbus's Voyage to Globalization by Charles C. Mann and adapted by Rebecca Stefoff. Triangle Square, 2016. 416 pages.
Reading Level: Ages 12-15
Recommended For: Ages 10 and up (note considerations below)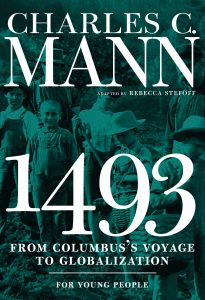 When Columbus reached the shores of the Americas, he unwittingly launched a new era in the history of Earth. Everything changed.
Mann's focus isn't on Columbus "discovering" America. Rather, he looks at how Columbus's voyage jumpstarted globalization, focusing in turn on trans-Atlantic trade and trans-Pacific trade. People's craze for new products, or cheaper products (such as tobacco), fueled our modern global commerce. Mann illustrates how plants, insects, disease, and other seemingly unconnected factors influenced such enormous movements as the Agricultural Revolution and the Industrial Revolution. He looks at the slave trade and at modern communities that still exist in the Americas which were started by escaped slaves and Native Americans.
A synopsis paragraph like that doesn't do this book justice. Full of pictures, maps, interesting details, and compelling arguments, 1493 for Young People will raise good questions in readers' minds. It illustrates how many factors come into play behind the scenes of major historical events or global movements. Mann doesn't give Providence any credit, but it's hard to read this book as a Christian and not marvel that so many things are working together in ways people could never orchestrate. Some results are, of course, negative, but Mann shows both positive and negative results equally. He maintains an interested, journalistic tone, not a strident call to action to reverse things that happened. The result is a book that will provoke thought and discussion and just may help young people understand our current world a little bit better.
Considerations:
In general, this book could be read by an average 10 year old (and up) if the subject matter interests them. One small mention of sexual arousal (in context) and another short section on multiple spouses is the only "adult" content. The content is interesting enough that teens will also find it enjoyable.
Readers will appreciate this book more if they have a rough understanding of global history already (i.e. key explorers, basic Colonial American history, a good grasp of basic geography, etc.).
Interestingly, Mann uses AD and BC for dates.
Overall Rating: 4.25/5
Worldview/Moral Rating: 4.25
Literary/Artistic Rating: 4.25
Related Reading from Redeemed Reader
We are participants in the Amazon LLC affiliate program; purchases you make through affiliate links like the one below may earn us a commission. Read more here.
Support our writers and help keep Redeemed Reader ad-free.