In Open Mic, ten writers of color team up to offer their experiences (or stories based on their experiences) in this frank, humorous collection for teens.
Open Mic: Riffs on Life Between Cultures in Ten Voices, edited by Mitali Perkins. Candlewick, 2013. 144 pages.
Reading Level: Teen, ages 12-15
Recommended For: Teens, ages 12+ (note considerations below)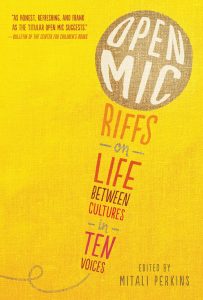 Those who grow up between cultures have a different experience than those who grow up in a more homogeneous culture. Whether it's parents from different cultures, immigration experiences that lead to life in two different cultures, or simply a different cultural background from the majority culture, a "between cultures" experience is a significant one. These ten stories are by turns funny, poignant, or both. Some are autobiographical, some are straight-up fiction. Poetry, comic-strip, narrative—all are based on actual experiences of the different authors.
Perkins's introduction is worth reading in its own right as she encourages readers to have a sense of humor, to talk about race with grace and laughter even as we talk about it in more serious circumstances. Wisely, she gives some excellent tips for how best to navigate that humor. Don't skip the intro, particularly if you're part of majority culture.
The authors are well-recognized names in contemporary middle grades and YA/teen literature: Mitali Perkins, G. Neri, Naomi Shihab Nye, Francisco X. Stork, Gene Yang, Cherry Cheva, David Yoo, Varian Johnson, Debbie Rigaud, and Olugbemisola Rhuday-Perkovich. Together they represent different ethnicities and a wide range of literary talent. My personal favorites are those by David Yoo ("Becoming Henry Lee"), Mitali Perkins ("Three Pointer"), Debbie Rigaud ("Voilá!"), and G. Neri ("Under Berlin").
Rather than read this book straight through, choose one or two stories to dive into at a time. Read it, chuckle over it, and think about it. Talk about it with your teens—or, better yet, encourage them to talk about it with their friends. The Lord, in his wisdom, created humanity in all of its glorious diversity. Each person, regardless of their skin color, is made in God's image. We do well to delight in his creation and everyone made in his image.
Considerations:
Do use books like this to talk about issues of race and culture with your teens.
Profanity/vulgarity: a couple of the stories contain bad language, but it's not excessive.
Sexuality: One reference to a girl's appearance and a guy's pants in response in one story. Stork's story, "Brotherly Love," has distinct homosexual overtones you may wish to discuss. Otherwise, the sexual references are minimal and in keeping with most teen conversation.
Note: Yang's cartoon is difficult to read in kindle format (at least on my Paperwhite). I cannot speak to its content.
Overall Rating: 4/5
Worldview Rating: 4.25/5
Artistic Rating: 4/5
Related Reading from Redeemed Reader:
We are participants in the Amazon LLC affiliate program; purchases you make through affiliate links like the one below may earn us a commission. Read more here. As of this writing, the kindle version is on sale for $1.99!
More than 75 books for children and teens, all about islands, oceans, and more. Bonus: get a free hand-drawn reading tracker!
Reading Ahead for You
Reviews and Resources Weekly in Your Inbox