Fractions Can be Your Friends
Do you enjoy math?
Most "readers" I've met have an avowed distrust of math. It seems that our cultural narrative lumps learners into humanities types (history/English/art) and STEM types (math/science). I don't think that's universally true, but, like all stereotypes, it contains a kernel of truth.
I did just fine in math class. I had good teachers, too. My Algebra II teacher said, "Fractions can be your friends," and made us all laugh. My Pre-calculus teacher was also my weight-lifting coach, and I thought he was great. I did quite well on math portions of standardized tests. And yet, I was delighted to put math behind when I got to college and dive into all the reading-heavy courses for my English major.
Why? I think it's because there was no story in the way my math teachers proceeded. I'm not talking about inventing a narrative and populating it with numbers. My teachers simply didn't cast a vision for how math is the language of the universe. How the intrinsic order in a math equation points us to the intrinsic order in God. The precision inherent in a complicated pattern like the Fibonacci sequence is everywhere in creation. It is beautiful, marvelous, and beyond comprehension.
Sir Cumference Math Adventures
But stories with numbers don't hurt either. Stories about math, using math, teaching math abound these days. We've got a whole list! (Naturally.) Today, though, I'd like to look at the familiar Sir Cumference Series.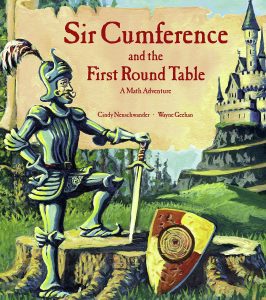 If you've got a range of children at home who need you to teach (or reinforce) math, try a Sir Cumference book. The adventures will captivate your children, even if the younger ones don't understand fully. The math fits nicely with upper elementary/middle school concepts, so your older children will benefit, too!
The Sir Cumference books are set during the time of King Arthur. They are funny, clever, and all use math to solve mysteries or conundrums.
Note: Titles are linked to amazon. These are older titles, so many can be found used at good prices. Some are also available on kindle. We are participants in the Amazon LLC affiliate program; purchases you make through affiliate links like the one below may earn us a commission. Read more here.
Sir Cumference and the First Round Table: Just how did that round table first happen? (this is a favorite with my kids)
Sir Cumference and the Dragon of Pi: A dragon, a riddle, and Radius, this quest revolves around the discovery of Pi, the magic number for circle equations.
Sir Cumference and the Great Knight of Angleland: Radius (Sir Cumference and Lady Di's son) is off on a quest, part of which involves a maze of angles.
Sir Cumference and the Isle of Immeter: Perimeter and area of the circle are the focus in this quirky adventure. (another family favorite)
Sir Cumference and the Sword of the Cone: The sword in this retelling is Edgecalibur; Sir Cumference and the rest are off on a math adventure learning all about 3 dimensional geometric constructions.
Sir Cumference and all the King's Tens: A surprise party for King Arthur draws the crowds, and Lady Di must use place value to keep up with the numbers.
Sir Cumference and the Viking's Map: Per and Radius are learning coordinate geometry and map-reading while they try to find their way home.
Sir Cumference and the Roundabout Battle: This math adventure is all about rounding … and a siege on a castle!
Sir Cumference and the Fraction Faire: Sir Cumference, Lady Di, and the Earl of Fracton solve a mystery, demonstrate the comparative size of fractions, and have fun with the usual puns.
Sir Cumference and the Off-the-Charts Dessert: A bar graph (in 3D!) is the math adventure in this battle of desserts.
Have you read the Sir Cumference books? Which is your favorite? (Tell us in the comments!)
Support our writers and help keep Redeemed Reader ad-free.