The brief but complex life of a honeybee literally unfolds in these gorgeously illustrated pages.
*Honeybee: the Busy Life of Apius Mellifera by Candis Fleming. Illustrated by Eric Rohman. Holiday House, 2020, 36 pages.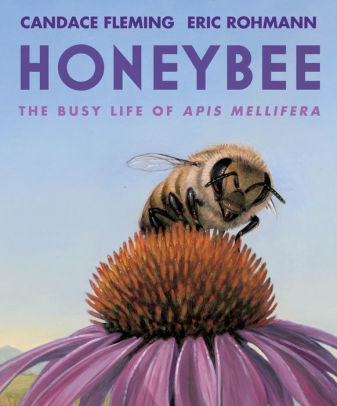 Reading Level: Picture book, ages 4-8
Recommended for: ages 6-up
Honeybee is the fascinating unfolding of a worker bee's life, from her first emergence out of the hatchery to her death 35 days later. Though she is equipped with wings from the beginning, her first job is to clean out the cell she came from so the queen can lay another egg there. Next the lowly worker (all of whom are female) embarks on a series of jobs: fastidiously grooming the queen , building up the comb, storing nectar and guarding the hive. Only about one-fifth of her life is devoted to gathering food outside the hive as she flies from blossom to blossom. Every state of life is gorgeously illustrated with double-page spreads, including one double-page foldout: the bee first perching on the edge of the hive and then, as the pages unfold, launching into the sunlit fields.
Back pages include a detailed diagram of the worker bee and more information about the species' to pollination. It's enough to make an apiologist out of me.
Overall Rating: 4.5 (out of 5)
Worldview/moral value: 4
Artistic/literary value: 5
We are participants in the Amazon LLC affiliate program; purchases you make through affiliate links like the one below may earn us a commission. Read more here.
Also at Redeemed Reader:
We've reviewed some great picture books about science. For instance, see
More than 75 books for children and teens, all about islands, oceans, and more. Bonus: get a free hand-drawn reading tracker!
Reading Ahead for You
Reviews and Resources Weekly in Your Inbox