Zoe Washington's peaceful life is disturbed by word from her incarcerated father–who may be innocent.
From the Desk of Zoe Washington by Janae Marks. HarperCollins (Katherine Tegen), 2020, 291 pages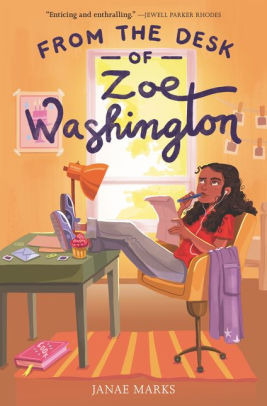 Reading Level: Middle Grades, ages 10-12
Recommended for: ages 10-14
Zoe's big ambition is to win a spot on the Food Network's Kids Bake Challenge, and to that end she's working on a killer cupcake recipe to make the judges sit up and take notice. Her mom and stepfather even managed to get her an apprentice position at the local bakery. But Zoe's plans take another path on her twelfth birthday, when she finds a letter in the stack of cards and well-wishes. The envelope bears a return address from the Massachusetts State Penitentiary, and inside is a letter from Marcus Johnson—her father. Marcus was incarcerated years ago for a serious crime, and Zoe's mother wants nothing to do with him. As it turns out, Mom has been hiding Marcus' previous letters. But this one got through. And it will upend all of Zoe's perceptions, for her father claims he's innocent. Is it possible he could be? And if so, is there anything Zoe could do, almost twelve years later, to clear his name?
It's hard to say how many inmates occupy our federal and state prisons who are innocent of the crime they're charged with. Could be hundreds, or even thousands. Our justice system is often far from just, and innocent people do fall between the cracks. Zoe's story tackles the problem of false incarceration (with a racial angle) in a tactful and age-appropriate way. Although the clues fall in place a little too neatly, her story ends happily while raising awareness of this important issue. Another plus is the positive view of her stepfather, or Dad, who has filled the gap left by Marcus.
Overall Rating: 3.75 (out of 5)
Worldview/moral value: 3.5
Artistic/literary value: 4
We are participants in the Amazon LLC affiliate program; purchases you make through affiliate links like the one below may earn us a commission. Read more here.
Related Web Link:
Bryan Stevenson's Just Mercy, a best-selling memoir recently released as a movie, traces the author's much more difficult struggle to clear an innocent man. Though we haven't reviewed it, the young reader edition of Just Mercy would be a good discussion starter for young teens.
Support our writers and help keep Redeemed Reader ad-free.