China through Time offers a unique perspective of social life over centuries.
China through Time: a 2,500 year journey along the World's Greatest Canal illustrated by Du Fei. DK Publishing, 2020, 30 pages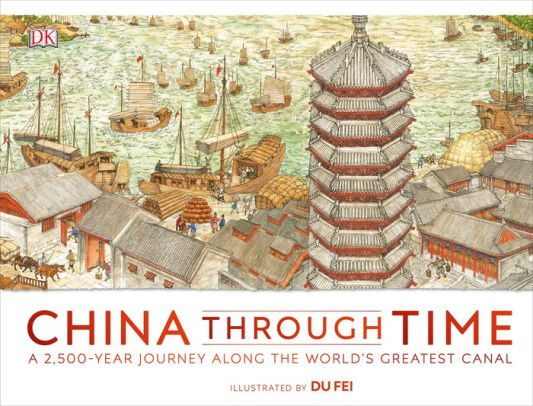 Reading Level: Middle grades, ages 8-10
Recommended for: ages 8-14
Around 486 B. C., before China was an Empire, King Fuchai of Wu Province ordered construction of a canal between the Yangtze and Huai Rivers. His purpose was conquest, not trade, but as always along any transportation route, cities sprang up and a multitude of occupations flourished. Eventually the canal stretched all the way to Beijing, making it the world's longest, as well as the world's oldest.
This oversize, full-color picture book captures detailed scenes of life along the Grand Canal of China. The narrative jumps from city to city and era to era in an order that seems random. That's my big complaint—why skip forwards and back through time, without even a timeline at the end to sort things out? My skimpy knowledge of Asian history could use some help here. Otherwise, the illustrations are worth hours of examinations, as readers are invited to find small details within the larger picture. They can also track the passage of Lihua the Cat throughout history—a feline Waldo. In any age and every place, people are people, and at the very least, China through Time offers a quick social-history tour of this most consequential nation.
Overall Rating: 4.5 (out of 5)
Worldview/moral value: 3.5
Artistic value: 4.5
We are participants in the Amazon LLC affiliate program; purchases you make through affiliate links like the one below may earn us a commission. Read more here.
More at Redeemed Reader:
More than 75 books for children and teens, all about islands, oceans, and more. Bonus: get a free hand-drawn reading tracker!
Reading Ahead for You
Reviews and Resources Weekly in Your Inbox