20th Century Book List for Young Teens
20th Century: World wars. A Great Depression. First flight. Space flight. Voting Rights. Civil Rights. Communism. Terrorism. Jazz. Nuclear weapons. Computers.  
The 20th Century included huge, sweeping changes, inventions, and events which, more than any century previous, connected our globe.
A reader could read for years and not cover all the books on WWII alone; clearly, this list below is not exhaustive. Rather, it's a collection of some of the works we think are great starting points.
Our 20th Century Book List for Young Teens includes political history, science history, social history, and Christian history in a mix of formats. Some are long, meaty titles; others are picture books or graphic novels. Many of these will be available in your local library.
Considerations: As a group, the resources below bring up themes and ideas from this tumultuous time that are best appreciated by children 12 years old and up. More mature readers could read the regular versions of the "Young Readers Versions" listed. If you have younger children, simply wait, or pick and choose carefully.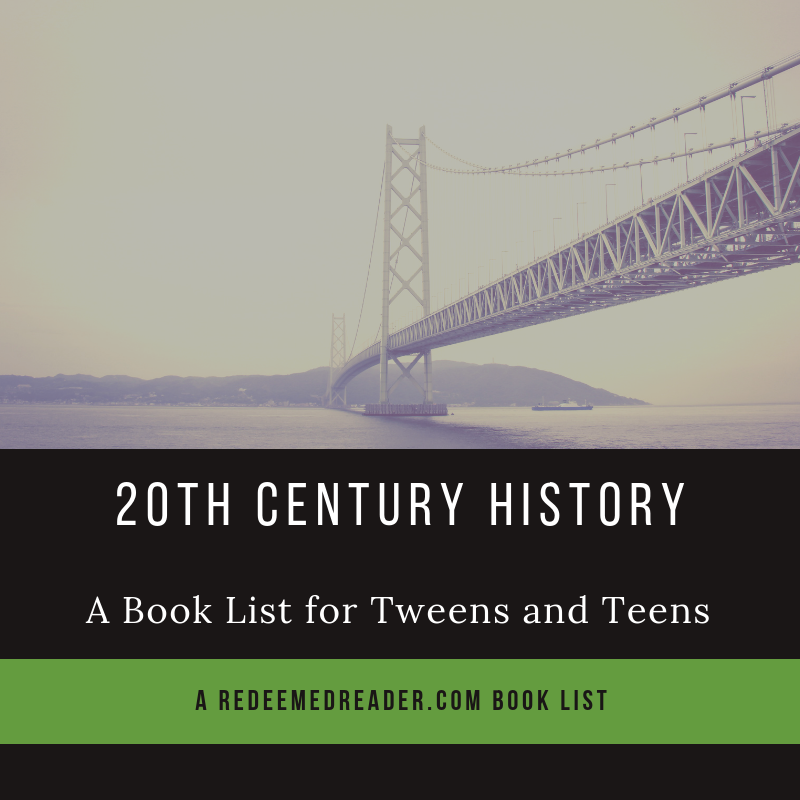 20th Century Book List for Young Teens
Titles linked to Redeemed Reader book reviews where applicable.
Recommended Resource: The Land of Hope by Wilfred McClay. This is a solid "spine" to use as an overview and to tie the disparate parts together; being with chapter 14.
1900-WWI:
WWI
1920s-1930s: Roaring 20s and the Depression
WWII
Communism and the Cold War
Animal Farm by George Orwell (allegory)
The Giver by Lois Lowry (dystopian fiction, but clear thematic connections)
Refugee by Alan Gratz (historical fiction; covers several decades)
The Wall: Growing Up Behind the Iron Curtain by Peter Sis (picture book/graphic novel)
God's Smuggler by Brother Andrew (autobiography; missions)
Civil Rights (1960s)
Vietnam War (1970s)
Space Race
Recent History
Through Gates of Splendor by Elisabeth Elliot (nonfiction; church history)
The Boy Who Harnessed the Wind Young Readers Edition by William Kwakwamba (nonfiction; science history)
Steve Jobs: Thinking Differently by Patricia Lakin OR Elon Musk and the Quest for a Fantastic Future by Ashlee Vance. One changed modern life through swift computing and handheld devices; the other may take us to Mars.
Watch video footage of: Challenger explosion, Twin Towers, Berlin Wall, etc.
A Twin Towers 9/11 story (there are several options)
Ronald Reagan: Our 40th President by Winston Groom (a good overview of the 20th century through the lens of this amazing President)
What books are YOUR favorites for the 20th century for young teens? Let us know in the comments!
Support our writers and help keep Redeemed Reader ad-free.