Trees: a Rooted History explores the wonderful variety of tree life in a lavishly illustrated compendium.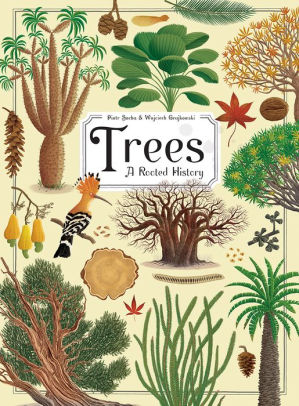 Trees: a Rooted History by Wojciech Grazkowski and Piotr Socha (translation by Anna Burgess), Abrams, 2019, 71 pages.
Reading Level: Middle Grades, ages 10-12
Recommended for: all ages
This oversize (11 x 14 3/4"), lavishly illustrated volume contains more than you ever thought there was to know about trees, starting with exactly what is a tree. Many plants that look like trees actually aren't, while some that don't really are. Within the arborial community is a tremendous variety of root structures, leaf shapes, sizes and colors. Beyond that, what would Earth be without trees? Fascinating, detailed double-page spreads explore the animals that live off them (including us): the food, protection, habitation, and canopy they provide. What's the tallest, widest, heaviest, and oldest? (Answer to that last category: not a single trunk but a grove of aspens that grew from one seed about 80,000 years ago.) The wood has provided material for centuries-old structures that still survive—and don't forget treehouses! Tree culture includes logging and lumber, so that's part of the story too.
Beyond these scientific and practical spheres, we also read about trees in history, legend, and religion, such as the Bible, Quran, Book of Mormon, dryad oaks, Ali Baba, Robin Hood, and or course, Ents! The biggest drawback of this beautiful book is its evolutionary stance, which unfolds on pages 54-55 with "The tree of evolution." On the one hand, the "Tree of Evolution" is a handy visual guide to basic evolutionary theory, to talk about and compare with old-earth and young-earth creationism. On the other hand, you could just skip those pages and marvel at Creation's wonderful variety.
Overall Rating: 4
Worldview/moral value: 3
Artistic/literary value: 5
We are participants in the Amazon LLC affiliate program; purchases you make through affiliate links like the one below may earn us a commission. Read more here.
Stuck at home? Enjoy our FREE Christian read-along adventure for all ages with lots of book ideas, discussion questions, and more!
Reading Ahead for You
Reviews and Resources Weekly in Your Inbox