Girl under a Red Moon depicts life under the worst totalitarian government in modern history.
Girl under a Red Moon: Growing up During China's Cultural Revolution by Da Chen. Scholastic Focus, 2019, 193 pages.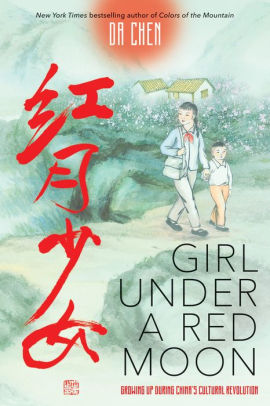 Reading Level: Teen, ages 12-15
Recommended for: Ages 14-18
Yellow Stone was a beautiful village in southeast China, located between the Wu Yi mountains and the Pacific Ocean. Da Chen's great-grandfather had earned the governorship of the province during the Ch'ing Dynasty. This assured prominence and comfort for his descendants—until Mao Zedong took control in the late 1940s. "Chairman Mao claimed he had liberated the great nation of China from a corrupt capitalist government, but the truth was less liberating and a lot more bloodthirsty." All the Chen family holdings were turned over to collectives, landowners were condemned the their children stigmatized, and former peasants who spouted the party line most convincingly were placed in positions of power. Up was down. "Good was bad, and bad was glorious." Da Chen was eight years old in the late 1960s when Mao announced his most ambitious plan: the Cultural Revolution, a re-structuring of society and economics, completely closed off from western influences. Sisi, his oldest sibling, was thirteen. She tried to adapt to the new normal, but when she was exiled for her failure to exhibit proper contempt for a respected teacher, Da begged to go with her. They found refuge at a nearby village, but in time the Cultural Revolution caught up with them there, too.
Da, the author, eventually made it to America where he became a lawyer and writer. His story is brief but intense, told in spare but beautiful language—and not for younger readers. Some of the violence, though restrained in the telling, is hard to take. This is a brother's tribute to a sister who faced great pressure to bend to the moral judgment of the state. Her brother's recollections shows in narrow focus the effect of Mao's totalitarian cult on an entire nation. This is a tough read, but Da Chen and his sister emerged stronger for the experience. In the end he can say, "I think our creator for all the good things in life."
Considerations:
As mentioned above, there are brief but chilling incidents of violence that may be disturbing to more sensitive readers.
Da Chen's religion is undetectable in the text, but he expresses belief in God more than once.
Overall Rating: 4.25 (out of 5)
Worldview/moral value: 4
Artistic/literary value: 4.5
We are participants in the Amazon LLC affiliate program; purchases you make through affiliate links like the one below may earn us a commission. Read more here.
Related Reading at Redeemed Reader
More than 75 books for children and teens, all about islands, oceans, and more. Bonus: get a free hand-drawn reading tracker!
Reading Ahead for You
Reviews and Resources Weekly in Your Inbox