A fact-packed and tongue-in-cheek resource for dinosaur fans, with a distinct evolutionary slant.
Everything Awesome about Dinosaurs and Other Prehistoric Beasts by Mike Lowery. Orchard (Scholastic), 2019, 123 pages.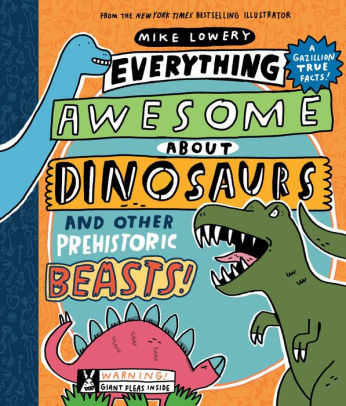 Reading level: Middle Grades, ages 8-10
Recommended for: ages 6-10
We may disagree about just how long ago "terrible lizards" (the root meaning of dinosaur) stalked the earth, but if you can get past the billions and billions of earth years and evolutionary speculation, there's a wealth of easily-digested information in this oversize compendium. It's best classified as graphic nonfiction, minus the sequential panels. The freewheeling visual style makes it hard for a literary person like me to follow, but more graphically-minded kids will enjoy browsing pages and digging out laughs. Though it's hard to see at first, there is a logical arrangement: Part One defines "dinosaur" and other prehistoric terms, including "prehistoric." Part Two charts the pre-history of earth from Precambrian to Cretaceous. In Part Three the dinosaurs finally show up: Triassic, Jurassic, and Cretacous. Part Four speculates on why we don't see the big lizards anymore (What happened ?). Part Five and Six identify other prehistoric beasts and paleontologists (which are not prehistoric). Past Seven is drawing fun and Part Eight wraps it all up with a Dino Field Guide. Rounding all the dinos up at the end is helpful, because with all the asides and jokes and cartoons in the main body of the text, it's hard to keep track. The appendix recapitulates the 4.6 billion-year timeline.
Young earth creationists may want to skip this one, but it's helpful to know the approved theories and terms. And knowledgeable parents can lay alternate theories alongside the standard ones for some informative discussions.
Overall Rating: 3.5 (out of 5)
Worldview/moral value: 3
Artistic/literary value: 4
We are participants in the Amazon LLC affiliate program; purchases you make through affiliate links like the one below may earn us a commission. Read more here.
More at Redeemed Reader:
For more dinosaur fun:
Stuck at home? Enjoy our FREE Christian read-along adventure for all ages with lots of book ideas, discussion questions, and more!
Reading Ahead for You
Reviews and Resources Weekly in Your Inbox