A foster child with a troubled past dares to hope for "Impossible Things" to change her course.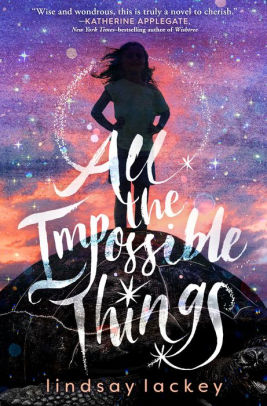 All the Impossible Things by Lindsay Lackey. Roaring Brooke, 2019, 368 pages.
Reading level: Middle Grades, ages 10-12
Recommended for: Ages 10-15
Ruby, nicknamed Red, is not in a good place. Her mom is in prison, her father was never in the picture, and Red has been in foster care since her beloved Gama died about two years ago. Her latest "home" included three mean boys and The Mom, who couldn't handle her. So Red is shuffled off to another foster home. She's not expecting much, even after meeting Jackson and Celeste Groove, an older couple with their own petting zoo. They're prepared to be patient with a damaged child, but Red is not the normal damaged child. She brings her own weather along. When she's upset she creates wind—storm surge wind. She got this trait from Wanda, her mother, who can stir gentle breezes along with mind-bending gales. Wanda is getting out of jail soon and Red hopes they can make a home together. But what if she can't get control of her emotions? What if Wanda can't keep it together? What if life together is impossible?
"It always seems impossible, until it's done," Gama used to say. Impossible things do get done in this story, but done doesn't necessarily look like Red imagines it. Some details don't quite come together for me: the weather that Red and her mother carry around is an intriguing image for uncontrolled emotions and the damage it causes, but it can be distracting to a reader who's wondering how it works. In contrast to the wind are the singing stars above—a steady benign presence that clearly represents Providential care. "'Grief changes us,'" observes Celeste. "'It can turn us into something we don't recognize. But this—' She gestured to the sky. 'The music reminds me I am loved. It brings me to life.'" It's notable that Jackson and Celeste belong to a church, which is seen as a loving and supportive community. Is God the source of all impossible things?
Considerations:
In the course of the story Red gets her period, and such is her mother's neglect that Red doesn't understand what's happening . Younger readers may need to be advised.
Wanda is a mess—drug use and neglect included and hookups with men implied. This is weakness, not maliciousness, but most readers will be furious with her!
Overall Rating: 4.5 (out of 5)
Worldview/moral value: 5
Artistic/literary value: 4
We are participants in the Amazon LLC affiliate program; purchases you make through affiliate links like the one below may earn us a commission. Read more here.
Related Reading from Redeemed Reader:
We liked last year's Season of Styx Malone, another novel about a foster child. Hey Kiddo covers some of the same difficult-parent territory for older readers (mind the cautions). Another difficult foster-child story (minus the happy ending) is Gary Schmidt's Orbiting Jupiter.
Support our writers and help keep Redeemed Reader ad-free.