All in a Drop communicates the wonder and excitement of the Scientific Revolution in this engaging biography of the inventor of the microscope.
All in a Drop: How Antony van Leeuwenhoek Discovered an Invisible World by Lori Alexander, illustrated by Vivien Mildenberger. Houghton Mifflin Harcourt, 2019, 83 pages including bibliography and index.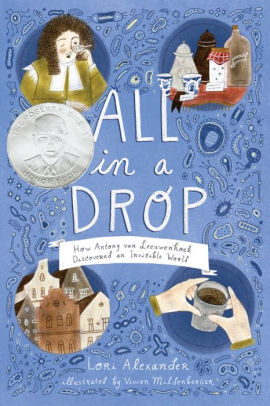 Reading Level: Middle Grades, ages 8-10
Recommended for: ages 7-11
Our story begins in the Netherlands, the 17th-century commercial center of the world. Dutch ships travel the globe planting colonies and trade empires and the scientific revolution is well underway. The curious son of a cloth merchant, Antony van Leeuwenhoek is following in his father's trade, but with an interesting, and in time all-consuming, hobby. Lens grinding is a relatively new technology and curious gentlemen have been using it to explore the world of small things. But Antony has some ideas that will improve the simple magnifying glass and give human eyes the capability of seeing much smaller things. Even tiny animals in pond water whose existence no one suspected!
This engaging biography introduces third-through-fifth-graders to an age when any curious gentleman (or lady, like Maria Merian–see link below) could make breakthrough discoveries. The colorful, winsome illustrations are just right for drawing young readers into the story. Though Van Leeuwenhoek's faith is not specifically mentioned, his sense of wonder comes through clearly.
Overall Rating: 4.5 (out of 5)
Worldview/moral value: 4
Artistic value: 5
We are participants in the Amazon LLC affiliate program; purchases you make through affiliate links like the one below may earn us a commission.Read more here.
More at Redeemed Reader:
We gave high praise to The Girl Who Drew Butterflies, the beautifully-illustrated biography of Maria Merian, another pioneer of the Scientific Revolution. Isaac Newton gets plenty of well-deserved coverage in Isaac the Alchemist and Isaac Newton and Physics for Kids.
Readers can explore their own world of small things with The Bacteria Book: the BIG World of Tiny Microbes.
Stuck at home? Enjoy our FREE Christian read-along adventure for all ages with lots of book ideas, discussion questions, and more!
Reading Ahead for You
Reviews and Resources Weekly in Your Inbox