Since his first novel was published in 2014, Jason Reynolds has been on an upward trajectory—deservedly so, for the most part. He was just named the new Ambassador for Children's Literature, following on the heels of Jacqueline Woodson and, previously, Kate DiCamillo. We're big fans of his work around here, especially of his four-part Track series and his grittier verse novel, Long Way Down. His latest, Look Both Ways: a Tale Told in Ten Blocks, is one of this year's buzz books. He uses an interesting scheme: each chapter is named for a street and focuses on a different character. The first line is "This story was going to begin like all the best stories. With a school bus falling from the sky."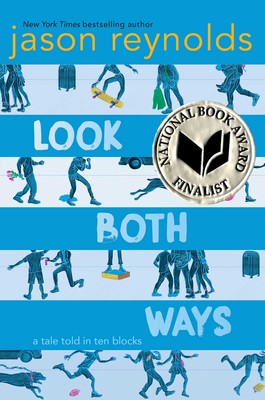 Actually, it starts with a philosophical conversation about boogers between Jasmine and T.J. on their way home from school. If you add boogers to dust, the material that God made people from, is that all we are? From that unresolved question we move to the Low Cuts, a gang of four who shake down their fellow students for pennies to donate to a good cause. And Pia the skateboard artist, who rides with a heavy load, and Bryson and Ty, whose friendship has leveled up, and Simeon the big dumb guy who's not so dumb, and Satchmo, who's terrified of dogs, and Cynthia Say-So who'll say or do anything, and Gregory who's hoping for a kiss from his crush, and Canton . . . which is where the falling school bus comes in. The stories overlap some, but it all seems pretty random. Do you see a unifying theme, Betsy?
Betsy: You know, Janie, I had a hard time with this one; it felt disjointed to me. I kept putting it down at the end of a chapter (which forms the complete storyline for a given character) and forgetting to pick it back up again. Each of the characters represent various types of kids (or people in general), and Reynolds does a good job of making their individual voices and stories distinct from one another. We know Reynolds can put on different personalities as an author and make them sing—his Track series is a good example of that since each volume is told from a different character's perspective. But I'm not sure it worked as well in this one. Did you find an overall story arc that grabbed you?
Janie: Tough question—I put you on the spot with that one! What struck me was the amount of stuff happening, including timely and untimely death. I wouldn't call death the theme, though. Other kids are dealing with divorce or illness or feelings they can't explain. I think the street names may be a clue to the theme. In order to deal with difficult issues, you first have to locate yourself and take stock of your surroundings (accept yourself?). After that, the story is different for everybody, but everybody has a story. It's a good theme, but may be more confusing than not for readers. Besides the multiple storylines and voices, what else is distinctive about this Reynolds offering from his other novels?
Betsy: Wow, Janie, I didn't even think of the street names and locating yourself. Great insight. I think you're on to something. In that sense, this is very much a Reynolds novel: most of his novels show kids coming to grips with their own individual selves and their particular surroundings. Patina has to learn to trust her family, mess and all. Ghost has to face up to his sin and accept himself for who is—and who he isn't. I think the multiple storylines and voices are what set Look Both Ways apart for me most. One of my favorite parts of a Reynolds novel is getting inside a character's head, especially when that character has a very different life experience than I do. Even when those characters are in the midst of harsh circumstances (such as All American Boys), it's a fascinating window through which readers can wrestle with some genuinely important and weighty concerns. Look Both Ways, in contrast, felt almost insignificant. The characters are still wrestling with plenty, but the reader doesn't get to know them at the same level. Janie, one of the things you and I've appreciated about Reynolds' work in the past is his respectful treatment of the church. Did that come up in this book? Any areas in this book that parents might want to know about before diving in?
Janie You're right; most of Reynolds' books include some mention of church. We hear through the grapevine that the author's mother is a Christian, so we assume he was brought up with some sort of church background. Out of 10 characters, at least one of them surely has some church experience that was mentioned, but I don't recall it—so obviously it didn't make that much of an impression. A more serious problem is represented by the aforementioned Bryson and Ty, avid gamers who appear to develop an attraction toward each other. I say "appear" because the first hint is a kiss on the cheek that could, in the context, be a joke. But then one brings flowers to the other, so it's probably not. It's a small plot development in relation to the entire scheme, but it's there, and it won't hurt the book's chances of winning gold. What do you think the odds are for Look Both Ways, Betsy?
Betsy: Frankly, I don't think the odds would be that great if the book were viewed in its own right. I think there are stronger contenders that have similar themes (such as New Kid: accepting people for who they are, being content with your own self). However, Jason Reynolds is the type of author like Kate DiCamillo for whom it's hard to turn off pre-existing knowledge and appreciation. The Newbery committee is supposed to evaluate each book on its own merits and not in light of its author's previous prowess. But that's hard to do since we're all human and have memories! What do you think, Janie?
Janie: I wonder about that. I tend to think of the Youth Media Awards in terms of the Oscars, where you get the sense that if an actor was passed over for an award the Academy thought he should have, he'll win for another movie in another year. The Newbery Committee is not supposed to do that, but as you say, we're only human. And Jason Reynolds is very popular among librarians, for many laudable reasons. What can I say but "We'll see"? (Lame!)
That's the last of our discussions, but check in on Friday when we make our predictions! (Then it's up to the committee to prove us wrong!)
We are participants in the Amazon LLC affiliate program; purchases you make through affiliate links like the one below may earn us a commission. Read more here.
Reading Ahead for You
Reviews and Resources Weekly in Your Inbox