The Boys in the Boat is a gripping nonfiction story for middle grades about teamwork, perseverance, and triumph at the Olympics.
The Boys in the Boat (Young Readers Adaptation): The True Story of an American Team's Epic Journey to Win Gold at the 1936 Olympics by Daniel James Brown. Puffin Books, 2015. 227 pages.
Reading Level: Middle grades, ages 10-12
Recommended For: Middle grades, ages 10 and up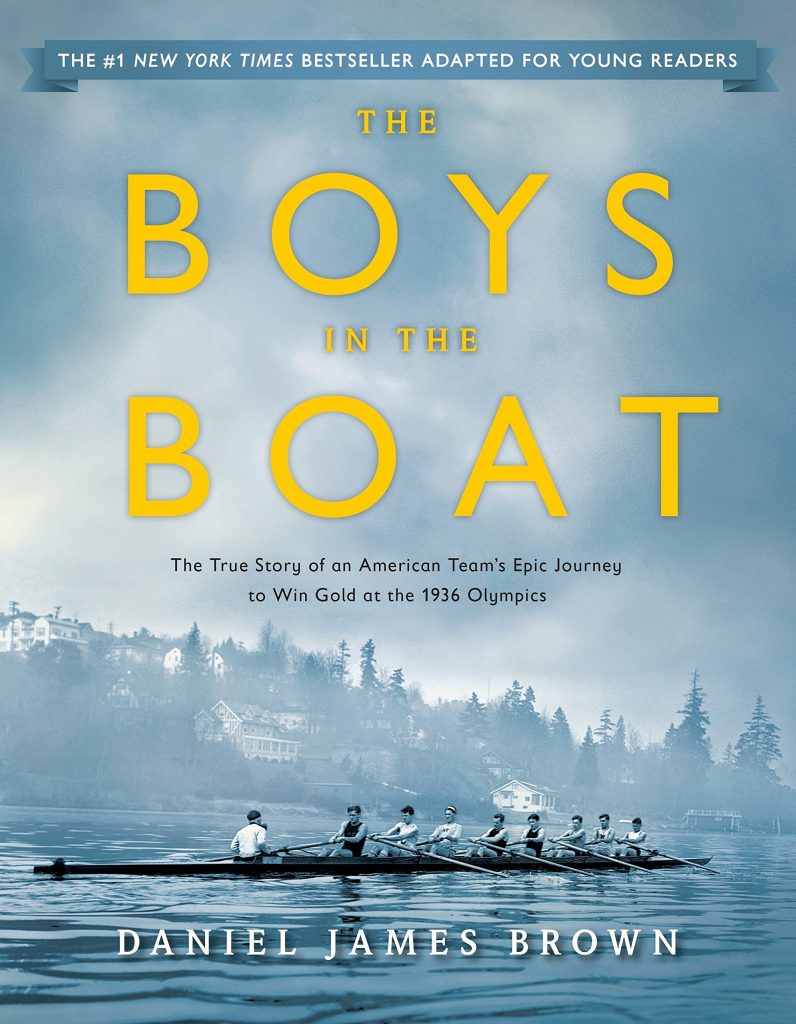 At age 10, Joe Rantz was fending for himself. His mom had died, and his stepmom wanted nothing to do with him. During the Depression, one extra mouth to feed was one too many. Joe's childhood was one hardscrabble situation after another, but somehow, he made it to the University of Washington for college and tried out for the rowing team. All those years of manual labor had made him strong–like many of his fellow teammates. But were these boys strong enough? Could these rugged individuals become a real team? Were they able to beat out the Ivy Leaguers in the Northeast or those boys from sunny California?
Historical events like the 1936 Olympic Games are facts: we already know what happened (or can find out in a quick internet search). The story leading up to an event like this must be done well to hold our attention: what happens to Seabiscuit along the way? How did the Titanic sink? It takes a talented author to hook the reader and keep his or her attention for the 200 pages leading up to the final event. Brown does just that, alternating chapters between Joe's childhood and his experiences at the University of Washington. The pace is perfect, reaching a nail-biting conclusion in the final moments of the Olympic Games as Adolf Hitler looks on from the stands in Berlin. Character, hard work, teamwork, and sportsmanship are impossible to ignore, but Brown doesn't preach. He doesn't need to. This is a terrific read for middle school students, whether they are athletes in training or not. Try it as a family read aloud if you have middle school and up kids in your home. Or as a read aloud in a history classroom!
Considerations:
Joe's upbringing includes some rough situations. This young readers adaption is suitable for young readers, but sensitive kids will be saddened by his treatment!
Don't be surprised by conversations resulting from this book; young readers can't help but be moved. Be on the lookout for opportunities to discuss hard work, teamwork, and sportsmanship as well as the effects of the Great Depression, what was going on in Nazi Germany, and how much the Olympics (and college sports in general) have changed!
Overall Rating: 4.5/5
Artistic Rating: 4.5
Worldview Rating: 4.5
We are participants in the Amazon LLC affiliate program; purchases you make through affiliate links like the one below may earn us a commission.Read more here.
Related Reading:
Reading Ahead for You
Reviews and Resources Weekly in Your Inbox