This engaging historical novel reflects on the plight of Unsung Heroes—black service men in the years immediately following World War II.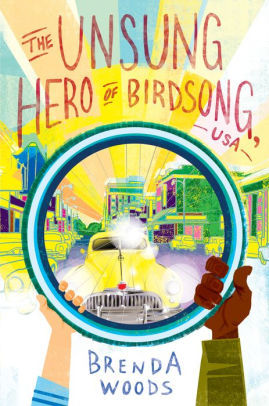 The Unsung Hero of Birdsong, USA by Brenda Woods. Nancy Paulsen/Penguin Random House, 2019, 194 pages
Reading Level: Middle Grades, ages 10-12
Recommended for: ages 11-15
Now that World War II is over, things have settled down in Birdsong, South Carolina, a pretty town and a great place to grow up. And now that Gabriel Haberlin is turning 12, he's half-grown already. The Schwinn AutoCycle Deluxe that he got for his birthday is a symbol of his growing independence, as well as the thing itself. But on his first ride around town, Gabriel survives a collision with the town's worst driver only because Mr. Meriwether Hunter was there to push him out of the way. The man is standing at the corner with a sign asking for work, but even though he's a skilled mechanic, any work he's liable to get will be unskilled and dirty. Meriwether is black—or "colored," in the polite parlance of the day. Fortunately, Gabriel's dad is short one mechanic at his garage. But unfortunately, the other mechanic is one of the worst bigots in town.
This classic small-southern-town story illustrates the dilemma of black World War II veterans hoping for respect after their service–and not getting it, a key reason for the great migration north in the 1940s and 50s. But anger and sadness are leavened with warmth and good humor, as well as simple decency from a few whites. Most of Birdsong's white residents are complacent rather than vicious, but some things need to change, and the groundswell of protest is already building. Meriwether himself is hopeful, as he strives for perspectives beyond his own. Looking through his own two eyes he sees rank injustice, but in Gabriel he can see a new day on the way: there is hope in the midst of sorrow. Especially if we can learn to see through eyes besides our own.
Considerations:
The word "colored" is used throughout to refer to black people. Though it could be condescending, and is understood so today, it was not meant as a deliberate insult.
Some brief scenes of violence may be distressing to especially sensitive readers.
Overall Rating: 4.5 (out of 5)
Worldview/moral value: 4.75
Artistic/literary value: 4.25
We are participants in the Amazon LLC affiliate program; purchases you make through affiliate links like the one below may earn us a commission. Read more here.
More than 75 books for children and teens, all about islands, oceans, and more. Bonus: get a free hand-drawn reading tracker!
Reading Ahead for You
Reviews and Resources Weekly in Your Inbox