In Some Places More than Others, a pre-teen girl tries to fill the gaps in her sense of place and family.
Some Places More than Others by Renee Watson. Bloomsbury, 2019, 194 pages.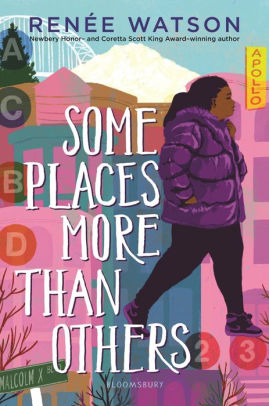 Reading Level: Middle Grades, ages 10-12
Recommended for: ages 10-14
Amara has a pretty good life in Portland, Oregon: two parents, both with good jobs, a cool best friend, a beautiful part of the country to live in, and a baby sister on the way. Though, to tell the truth, she has mixed feelings about the baby. Amara has been the one and only for 11 years, so what kind of disruption is that going to be? And there's another thing: she's missing half of her extended family. Dad grew up in New York City, but he seldom goes back there, and when he does he never bothers to see his own father. Though Amara talks to her Grandpa on the phone, and her Aunt Tracy has visited twice with the cousins, she's never had the opportunity to get to know them. So when Dad is planning a business trip to NYC, she pesters both parents until they finally agree she can go along.
There are secrets to uncover, such as what happened between Dad and Grandpa, but the central theme (as the title indicates) has more to do with Place: how where we live is part of us, and where we come from is important to know. Amara's adventures in the city aren't all fun; some are troubling, and some are frightening. But it's always worthwhile to find out more about yourself and your heritage, including the people that existed before you were around.
Considerations:
The family goes to church and prays at meals.
A "Suitcase Project" similar to Amara's school project in the story, helps readers begin to think their own family history, with interview questions, writing prompts, and "Top Ten" lists.
Overall rating: 4.25 (out of 5)
Worldview/moral rating: 4.5
Artistic/literary rating: 4
We are participants in the Amazon LLC affiliate program; purchases you make through affiliate links like the one below may earn us a commission.Read more here.
Support our writers and help keep Redeemed Reader ad-free.