In this light-hearted middle-grade novel, a southern "Rebel" digs into her heritage with surprising and enlightening results.
Last in a Long Line of Rebels by Lisa Lewis Tyre. Nancy Paulsen Books, 2015, 288 pages.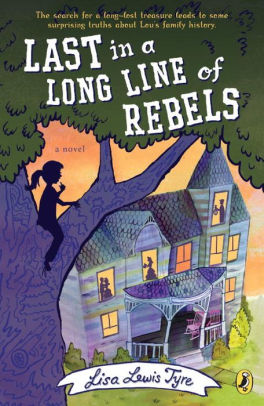 Reading Level: Middle Grade, ages 10-12
Recommended for: ages 10-14
As sixth grade ends, all Louise (Lou) Mayhew wants is an exciting summer—even though she has to spend it in her home town of Zollicofter, Tennessee. Her scrap-dealer dad doesn't make a lot of money and her mom, a scrap artist, makes even less—and is expecting a baby besides. So it looks like the only way to get excitement is to ask God for it. Lou's best friend Benzer suggests she hold the family Bible, ask sincerely for what she wants, "Then offer to do something God likes."
You know the saying: Be careful what you wish for.
Turns out, Lou's house, which dates back to antebellum days, has just been voted into the public domain and is due to be condemned if the family refuses to sell. And Isaac Coleman, who works for her dad, has been denied the football scholarship to UT that he was expected to get. Racism is the suspected cause. And research into Lou's family tree is turning up some unsavory characters, as well as rumors of a cache of Union gold that was stolen during the War Between the States and never found.
Lou is a spunky southern heroine with a feisty grandma, wise parents, and loyal friends who help when needed, even on a harebrained scheme. The diary of her Civil-War-era namesake, Louise Duncan Mayhew, provides perspective on the past and one valuable clue in the present. The past is allowed to speak for itself, as Louise echoes the standards of her time (especially on slavery) while still open to correction. In the present, even though Lou has her own problems with impulsiveness and quick judgments , rebellion in the right cause can be a good thing. The unraveling of the mystery seems a bit contrived, but makes for a very exciting summer.
Also by Lisa Lewis Tyre (with a thumbs-up from us): Hope in the Holler. For another spunky southern girl story with Christian overtones, see our starred review of Almost Paradise.
Considerations:
There are a couple of misuses of "omg" profanity.
Though Lou is not a church-goer at the beginning, the story is very positive about family, community, and church.
Overall Rating: 4.5 (out of 5)
Worldview/moral value: 4.5
Artistic/literary value: 4
Please follow and like us: