This large-format graphic novel brings to life a new, lovable dinosaur while simultaneously nudging readers to be more perceptive.
*Bolivar by Sean Rubin. Archaia, 2017. 224 pages.
Reading Level: Middle grades, ages 8-10
Recommended For: All ages, but especially ages 8-10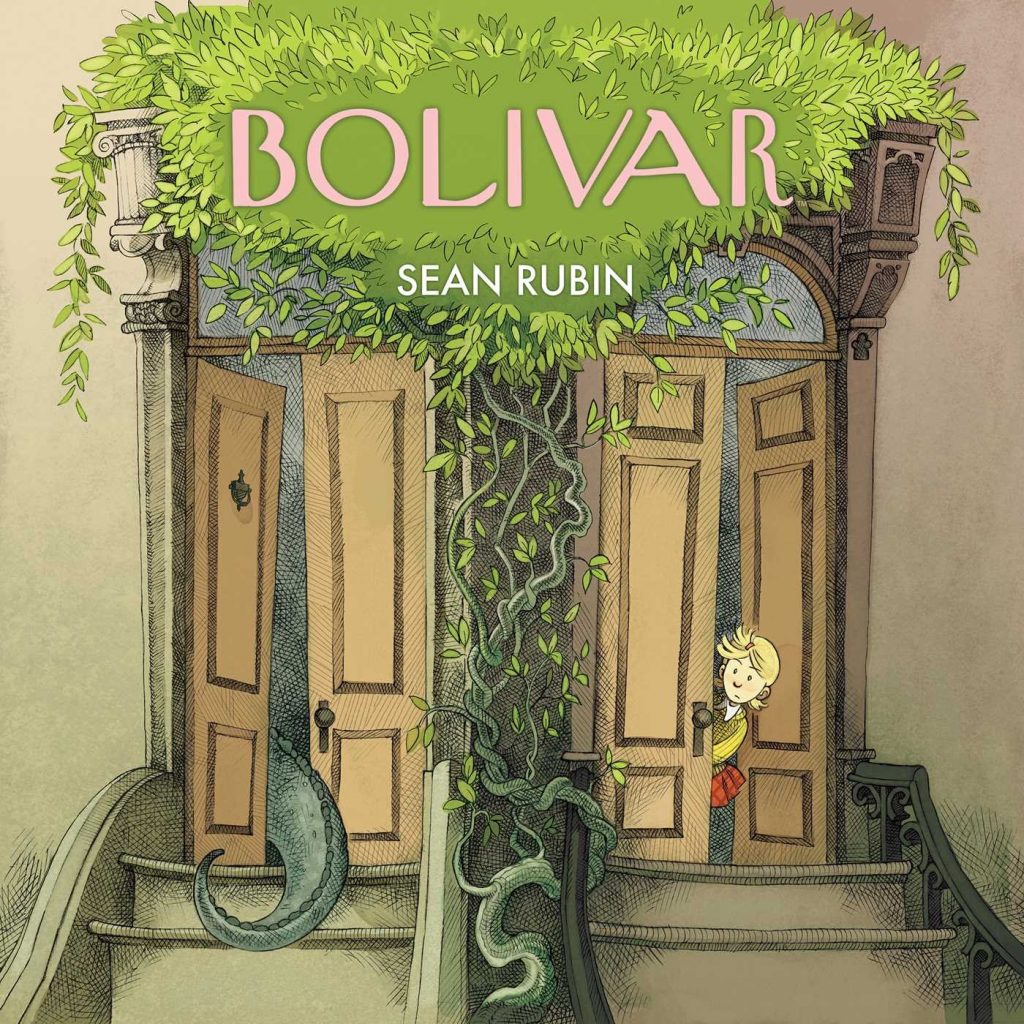 One might think a dinosaur living next door would cause quite a stir. One would be wrong if both you and the dinosaur lived in the heart of New York City. After all, the city is a busy place with many strange people going to and fro on earnest quests of their own. Sybil, however, is not too busy to notice, and she tries in vain to let other people know of this remarkable resident through school reports, clandestine photography, and plain old speech. Bolivar (the dinosaur) does not wish to be noticed, though, and he's remarkably skilled at hiding in plain sight. No one (but Sybil) notices him in the art museum, on the subway, in the grocery store, … Until one day when he gets a parking ticket, of all things.
This coffee-table sized graphic novel is a delight from cover to cover. Solid pacing, clever artwork, and a wonderfully well-rounded dinosaur make for a great read. Chapters help break up the narrative for readers who aren't ready to read the entire book in one sitting (although most will!). Kids will enjoy spotting evidence of Bolivar even as they read–and think about–his story. We might not have dinosaurs living next door, but who are our neighbors? Who are the individuals living around us whom we don't really see? Jesus tells us to love our neighbors; it's hard to love them if we aren't seeing them and getting to know them!
Overall Rating: 5/5
Worldview Rating: 5/5
Artistic/Literary Rating: 5/5
Considerations:
If it feels natural, use this book to jumpstart a conversation about loving our neighbors: Why does Sybil notice Bolivar? Why does her mother (and everyone else) not see Bolivar? What are they focused on instead?
Who are the "neighbors" in our own lives that pass by, unnoticed? What are we focusing on instead? Are there specific people that come to mind that you might start to notice and get to know?
Related Reading:
We are participants in the Amazon LLC affiliate program; purchases you make through affiliate links like the one below may earn us a commission. Read more here.
Support our writers and help keep Redeemed Reader ad-free.