This biography of Virginia Hall for young people tells the little-known story of a daring World War II spy.
The Lady is a Spy: Virginia Hall, World War II Hero of the French Resistance by Don Mitchell. Scholastic, 2019, 221 pages + notes, bibliography, and index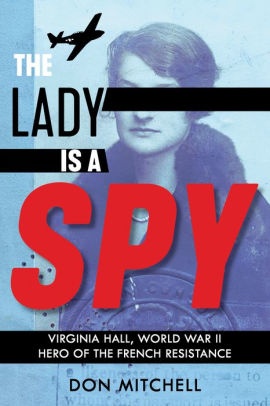 Reading Level: Middle Grades, ages 10-12
Recommended for: ages 12-15
One of this year's best-sellers for adults is A Woman of No Importance: the Untold Story of the American Spy Who Helped Win World War II. This book tells the same basic story for younger readers: how Virginia Hall, an attractive, well-educated Maryland debutante, became one of the most valuable liaisons between the allies and the French Resistance during WWII. Virginia was traveling in Europe when Germany invaded Poland, signaling the beginning of war. But instead of beating it for home as fast as she could, she volunteered for the French Ambulance Service. After France fell under Nazi control, she became an agent for British Special Operations, working as a "journalist" in France while helping coordinate Resistance activities and rescue Allies on the run. After her journalist cover was blown she escaped to England, but returned after D-Day to serve as a wireless telegraph operator in regions of France that were still occupied.
It's a thrilling story, and I suspect A Woman of No Importance tells it better. The Lady is a Spy is plagued by less-than-sparkling prose, some really lame captions ("Virginia standing between two dogs") and a sometimes plodding narrative that sacrifices dramatic tension in favor of rounding all the bases. All that said, Virginia Hall deserves to be better known, and this treatment is a useful start.
Considerations
Some quoted mild profanities
One of Hall's most valuable contacts was a French "madam" who collected valuable information about the Nazis from prostitutes who served them. Not a large part of the story, and certainly not graphic, but it's there.
Overall Rating: 3.5 (out of 5)
Worldview/moral value: 3.75
Artistic/literary value: 3.25
Reading Ahead for You
Reviews and Resources Weekly in Your Inbox