Superlative Birds is a "Guiness Book of World Records" for our feathered friends, with a fun poetry angle.
Superlative Birds by Leslie Bulion, illustrated by Robert Meganck. Peachtree, 2019, 56 pages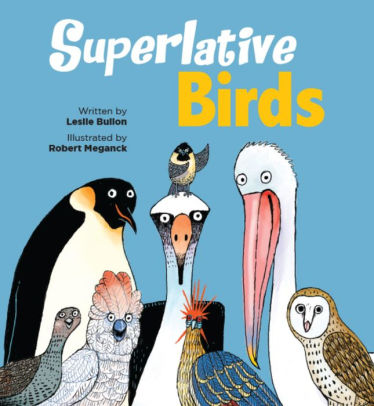 Reading Level: Picture Book,ages 8-10
Recommended for: ages 6-12
Which birds can do what birds do, best?/ Which put world records to the test?/ Which birds are beaks above the rest?/ Superlative birds! Come see!
The "superlatives here include largest wingspan, longest toes, even "Most gruesome prey collection." Even the most dedicated bird-lover will discover some fascinating facts. Each outstanding bird is accompanies by clever illustration, "science notes," and a poem written in a distinctive style or form. All poetry styles are explained in the appendix, which also includes a glossary and short list of birding resources for readers inspired to get into the hobby. But even if birding is not in the future, Superlative Birds is fun for both nature fans and poetry fans.
Overall Rating: 4 (out of 5)
Worldview/moral value: 3.5
Artistic/literary value: 4.5
For other great ornithology resources, see "Birds of a Feather: a Book List." For imaginative poetry forms, see our reviews of Shakespeare Bats Cleanup, One Last Word, and I'm Just No Good at Rhyming.
Support our writers and help keep Redeemed Reader ad-free.