This oversize picture-book biography of the Statue of Liberty tells how she almost didn't find a home.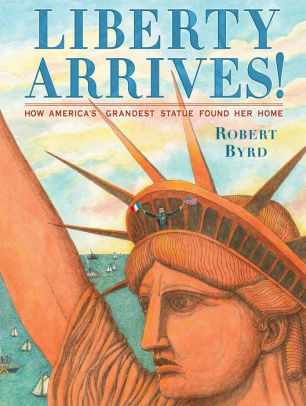 Liberty Arrives! How America's Grandest Statue Found Her Home by Robert Byrd. Dial, 2019, 28 pages
Reading Level: Picture Book, ages 8-10
Recommended for: ages 7-12
"Everybody knows" the statue of "Liberty Enlightening the World was a gift to America from France. But I didn't know she was the inspiration of Edouard de Leboulaye, a French judge, scholar, and admirer of America who became acquainted with the sculptor Frederic-August Bartoldi. Laboulaye wanted some sort of monument as a gift for America's centennial in 1876, and Bartoldi seemed just the man to design and build it. Bartoldi even had an idea for the monument in mind, and he liked to think big. But who was going to pay for it?
Readers may be surprised to learn that Americans were not uniformly enthusiastic about the idea, especial when the French left the cost of Liberty's pedestal up to them. The statue was completed and shipped before she even had a place to stand. Wealthy bankers and industrialists didn't come through with the money. But after Joseph Pulitzer publicized Liberty's plight, the American people did. This oversize, beautifully-illustrated picture book tells the story of the statue's design, construction, and eventual unveiling in New York harbor with just the right amount of detail and drama. It's fun and informative—even inspiring—for all ages.
Overall Rating: 4.5 (out of 5)
Worldview/moral value: 4
Artistic/literary value: 5
More than 75 books for children and teens, all about islands, oceans, and more. Bonus: get a free hand-drawn reading tracker!
Reading Ahead for You
Reviews and Resources Weekly in Your Inbox