The ordeal of Jeremiah Denton in the "Hanoi Hilton" is not for the squeamish, but stands as a witness to courage and faith.
Captured: an American Prisoner of War in North Vietnam by Alvin Townley. Scholastic Focus, 2019, 211 pages + appendices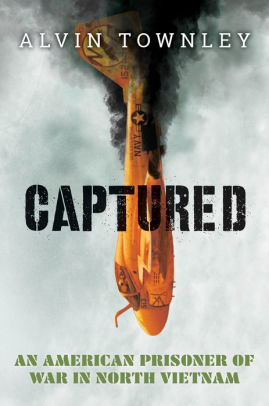 Reading Level: teen, ages 12-15
Recommended for: ages 16-up
When Navy Commander Jeremiah Denton (he preferred "Jerry") climbed into the cockpit of his A-6 Intruder, he was on a routine bombing run to North Vietnam, part of Operation Rolling Thunder. This time he would be targeting the Than Hoa Bridge, a critical chokepoint on the supply line from Hanoi to the Viet Cong. The target was in view when his plane was hit by anti-aircraft artillery. With only seconds to combustion, Denton and his navigator ejected. Though his parachute ensured a safe landing, his leg was injured; he couldn't escape into the jungle. Denton fell directly into enemy hands, and as bad as that was, it would only get worse.
Some of Denton's story is told in flashback: his upbringing in Maryland, the marriage that produced seven children, his distinguished Navy service. But almost the entire narrative of Captured sticks to the title, a grueling record of eight years in captivity under an enemy who scorned the Geneva Convention rules for POWs and treated their prisoners like vile criminals. As ranking officer, Denton took responsibility for setting up chains of command and communication, knowing how important it was for him and his fellow prisoners to maintain order and keep in touch with each other. It's a testament to his leadership that almost all the prisoners survived to go home. Still, the unrelenting torture, deprivation, and solitary confinement, particularly during the first three years, is hard to take. Love of his country and his family helped to sustain him, but his faith proved to be the ultimate sustainer, breaking through the darkest moments and comforting him in the deepest despair. Such lives as this can encourage us all.
Considerations
Language: some profanity, considered mild by today's low standards (the h- word and the d- word), and the s- word in its literal context.
The narrative does not dwell on violence or blood, but there are some scenes of torture.
Overall rating: 4 (out of 5)
Worldview/moral value: 4.75
Artistic/literary value: 4
See our review of John McCain, American Hero
Stuck at home? Enjoy our FREE Christian read-along adventure for all ages with lots of book ideas, discussion questions, and more!
Reading Ahead for You
Reviews and Resources Weekly in Your Inbox