A conniving traitor who plots to overthrow the throne by dispatching one family member after another is threatened by a heroic young squirrel who drops out of the sky.
*Urchin of the Riding Stars: Mistmantle Chronicles, Book One by M.I. McAllister.  Miramax Books, 2005, 282 pages.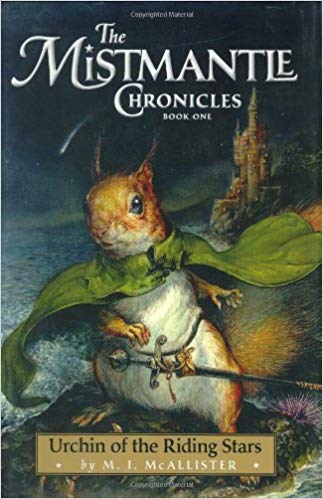 Reading Level: Middle Grades, ages 10-12
Recommended for:
Middle grades, ages 8-12, and up; makes a great read aloud
I don't know what it is about English authors, but they are brilliant creators of the coziest and most delightful animal tales that radiate Truth and Story.
If you could draft squirrels and hedgehogs from Beatrix Potter, and otters and moles from Kenneth Graeme, then develop them into charming characters both meek and flawed like those of A.A. Milne's Hundred Acre Wood, AND tell a beautiful story of good triumphing over evil, you would have a glimpse of the Mistmantle Chronicles. I am astonished that I have missed learning about this series containing Truth and Story for over a decade since its publication, and delighted to discover it at last.
Urchin is a foundling squirrel with pale fur, born on a night of falling stars. Raised in a community of squirrels, hedgehogs, otters and moles in Anemone Wood on Mistmantle Island, he dreams of doing something special, particularly because his true origin is a mystery. When his hero, Captain Crispin, chooses Urchin to be his page, the little squirrel is elated.
The following morning, when Urchin tries to report for duty, he is shocked to learn that a horrible tragedy occurred in the night: the young prince has been murdered. Although Brother Fir (the kindly priest who found Urchin) has doubts about the authenticity of casting lots, the grief-stricken king desperately consents in order to ascertain the guilty party. Captain Crispin, Captain Husk, and Captain Padra, the three members of the king's council, solemnly proceed. Everyone is shocked when Crispin is found guilty and immediately banished from the island. Has justice been satisfied?
Reluctantly left behind, Urchin settles for assisting Captain Padra. Padra and Brother Fir seek the truth behind the conspiracy against Crispin. Urchin is charged with reporting any suspicious activity and makes more troubling discoveries.
Distressing laws pervade the island. Work parties keep increasingly longer hours. Imperfect babies are culled, and Urchin's hedgehog friend, Needle, is anxious about her new little brother. Will the king, who still grieves his losses, require everyone to ration food through the winter? Meanwhile, the wedding of Captain Husk to Lady Aspen, the queen's attendant, gives cause for feasting and celebration.
There is another crucial event coming, the Spring Festival, and a new leader seems to be rising. But Urchin's life is now in danger, so Padra and Brother Fir send him on a quest to find Captain Crispin and bring him back to Mistmantle before it's too late. In the midst of all this, how can they save the little ones from slaughter?
Although there is no magic, effective prayer to the "Heart" overcomes the power of Darkness and gratitude to the Heart is often expressed. One of the most unique and delightful qualities of the story is the dignity and value of deformed and vulnerable children who are condemned.
With allusions to the Bible, Shakespeare, and even a hint of Lord of the Rings, this tale of intrigue, heroism, justice, warmth, humor, and marvelous descriptions of food (another trademark of British children's literature), is delightful . I look forward to reading the rest of the series.
Urchin of the Riding Stars is an animal fantasy, a gem of Truth and Story, and an irresistible tale of adventure and the triumph of light over darkness. Highly recommended. Although not currently in print, you should check your library. You can also find some inexpensive used copies of the first three books in the series or get them on Kindle. Enjoy.
To read another review of this series, check out Animal Tales and Tails by Amanda Cleary Estep.
Support our writers and help keep Redeemed Reader ad-free.