Swing and Solo: two novels-in-verse for teens that grapple with music (jazz and rock and roll), baseball, young love, and what's really important in life.
Swing by Kwame Alexander with Mary Rand Hess. Blink, 2018. 448 pages.
Reading Level: Ages 12 and up
Recommended For: Ages 14 and up
Noah wants nothing more than for one of his best friends, Sam (short for Samantha), to fall in love with him. He's pined after her for years. Noah's other best friend, Walt, wants nothing more than to get on the varsity baseball team. But what's a guy to do when the love of his life thinks of him as a brother? Or when you just don't have the baseball chops you need to compete?
The answer is to beef up your game, and Walt and Noah do just that: more batting practice, love counseling sessions with Walt's cousin, and copious amounts of jazz.
Free verse poetry ripples out like jazz, at times mournful, other times upbeat. Teen love gets center stage, but baseball is never far behind. Through it all swirl themes of racial prejudice, patriotism, and friendship. The ending will feel abrupt to some, and some teens may need some help processing it. SPOILER ALERT: it involves the death of a major character. But life is like that: you don't always get the girl, the right person isn't always punished for the crime, and cheesy advice from a podcast doesn't always hit the mark. It's not a hard leap to ask teens where they're looking for answers. Our real hope in this temporary earthly life is Christ; anything else will ultimately fail us.
Considerations:
Sexuality: Noah is honest about the way he feels about Sam, and the two spend a night together. But the extent of their relationship centers around kissing and Noah's emotions regarding Sam.
Death: One character dies at the end of the novel, unjustly.
Pro-family: The importance of family comes through clearly.
Overall Rating: 3.75/5
Artistic Rating: 3.75
Worldview Rating: 3.75
Solo by Kwame Alexander with Mary Rand Hess. Blink, 2017. 464 pages.
Reading Level: Ages 12 and up
Recommended For: Ages 14 and up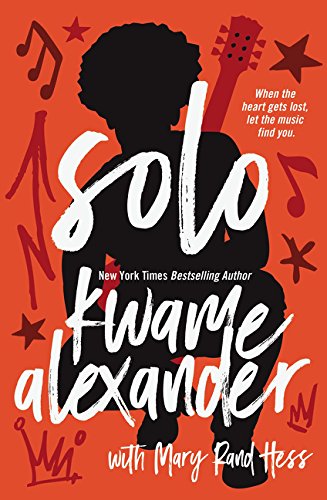 Blade resents his life: the death of his mother 10 years ago. His dad's former rock 'n' roll career (complete with drugs and alcohol). The glitz and glamor that still chases him. His dad's attempt to regain that same career and lifestyle. His girlfriend's parents add insult to injury: they forbid Chapel to see him because her parents are afraid the apple doesn't fall far enough from the tree. But then Blade finds out life-changing news in a letter. He ends up in Ghana, trying to find himself, his family, and his identity.
Part ode to rock 'n' roll and songwriting, part ode to teen love, and full ode to the power and importance of family, Alexander's free verse rocks and rolls from beginning to end. Some readers may find the ending a bit too quick, but the message isn't a bad one: we need family. We need community. And we need to look beyond ourselves in order to be fulfilled. Blade's trip to Ghana is a soul-searching one that doubles as a humanitarian venture, but it's not hard to make connections to the many missions groups that do similar work. Encourage your teens to think about Blade's "mission" and whether he finds the right answers in the right way. Ask them, too, about our real identity in the family of God and how our own families mirror that (or don't).
Considerations:
Sexuality: Blade's thoughts about his girlfriend are poetic, emotional, and descriptive. It's less sensual than most contemporary media, but some parents may wish to save this one for older teens.
Discussion Starters: Topics such as the power of music, the importance of creativity, the importance of family identity and belonging, the source of our self identity/esteem, and the lingering effects of bad lifestyle choices will naturally come up when discussing this title.
Poetry: Free verse poetry really appeals to some readers; Kwame Alexander writes fluently and easily in this format.
Overall Rating: 3.75/5
Artistic Rating: 4/5
Worldview Rating: 3.75/5
We've reviewed some of Kwame Alexander's other books, our favorite being The Crossover, one of his middle grade novels. His books feature distinctive father figures, the importance of family, and are usually respectful of religion/church, even if he doesn't address faith overtly. Another writer we like who mixes sports and strong family themes is Jason Reynolds.
Reading Ahead for You
Reviews and Resources Weekly in Your Inbox