Compact and practical, Growing in Godliness offers wise advice to girls entering high school or college.
Growing in Godliness: A Teen Girl's Guide to Maturing in Christ by Lindsey Carlson. Crossway, 2019, 124 pages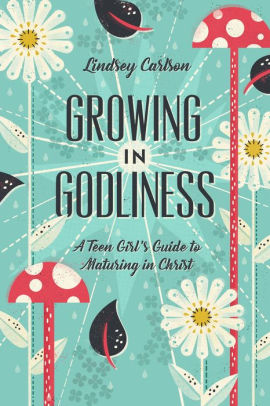 Reading Level: Early Teen, ages 12-15
Recommended for: ages 14-18
Why wait until your early twenties—or even later—to pursue maturity? With thirty-year-olds moving back to Mom & Dad's basement and post-grads signing up for "adulting" classes, something has gone awry with our teen-raising process. The author, a pastor's wife and mother of five, has plenty of experience discipling young women, experience which she puts to good use in this compact little volume aimed at girls. In three major sections, she explored how to "Partner with God," "Depend on His Ways," and "Monitor Your Growth." The last section is especially helpful, as she gets down to brass tacks on how a teen girl speaks and feels. In a culture that celebrates "speaking your truth" and "following your heart," these chapters are a pertinent reality check.
Each chapter ends with a summary of the main point, with tips for following through, a scripture verse to write and memorize, and prayer suggestions. Nothing here is new, but it's clear, precise, and well worth re-reading.
Overall rating: 4.5 (out of 5)
Worldview/moral value: 5
Artistic/literary value: 4
For another excellent book on godliness for young women, see our review of True Beauty.
More than 75 books for children and teens, all about islands, oceans, and more. Bonus: get a free hand-drawn reading tracker!
Reading Ahead for You
Reviews and Resources Weekly in Your Inbox