A roundup of recent middle-grade novels about family formation and dissolution.
Stories, like people, begin at home, and no matter how fanciful or adventurous middle-grade fiction may be, its mainstay remains what it's always been: the family.  Four recent novels by award-winning authors present families in the process of bereaving, breaking up, or re-forming, all ending on a note of hope.  No big upheavals happen, but that's life for most of us.  We come, as these characters do, to a sense of self and stability hand-to-hand, through developing relationships. 
The Lost Boy's Gift by Kimberly Wilhoit. Henry Holt, 2019, 210 pages. For ages 8-12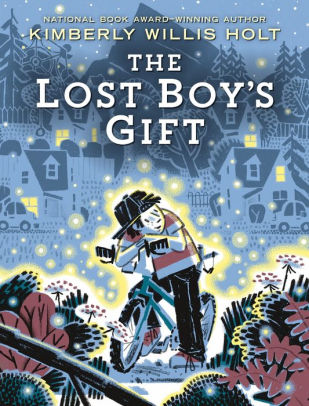 "The art of noticing is the gift we all own." Daniel is too distracted to notice much when he and his mom move across country after a divorce. They've found a house on While-a-Way Lane, where Daniel doesn't hit it off with his nearest neighbor Tilda Butter. To be fair, Tilda isn't overly impressed with him either. But Tilda has a gift of listening, which is so keen she can hear neighbors who aren't of her species, like Isadora the snake and the spider who moves in uninvited. Once Daniel starts paying attention, he can hear things, too. When school restarts after spring break, he sees a chance to shape his life through the medium of a school production of Peter Pan. Things don't work out as he expected, but . . .
It's a quietly humorous story with some quirky secondary characters and subtle twists. The divorce is handled in a way that's realistic and age-appropriate, and the inter-generational friendship between Daniel and Tilda is nicely portrayed.
Cautions: None
Overall rating: 4 (out of 5)
Birdie by Eileen Spinelli. Eerdmans, 2019, 197. For ages 10-14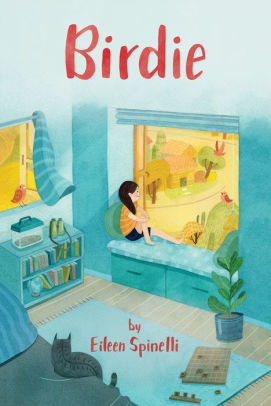 Roberta Briggs is known to everyone as Birdie, and as soon as she's old enough she'll make that name official. She loves birds of all kinds ("There's something light and feathery in my heart"), and the hills and woods surrounding her small Pennsylvania town offer plenty of opportunity for bird-watching. She and her mother aren't natives; they moved in with grandmother Maymee after Dad was killed on duty as a firefighter in Philly. Birdie is trying to reconstruct her life, and may be looking too much to her friends for self-worth. Especially Martin, who has boyfriend potential. Whether Mom should have a boyfriend is another matter entirely.
Birdie has ruffly feathers that need smoothing from time to time, but her voice, all in blank verse, observes the little things in life as closely as the larger ones. One welcome shift is her revelation that she and her friends "aren't ready for dating./ Maybe we should just concentrate/ on friendship with boys./ Mom says there's a lot/ to be said for friendship." There's a lot to be said for this gentle story, too.
Cautions: None
Overall rating: 4.5
Shouting at the Rain by Lynda Mullaly Hunt. Penguin Random House (Nancy Paulsen Books), 2019, 288 pages. For ages 10-12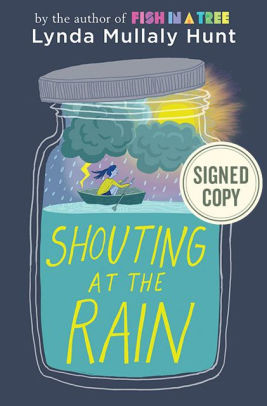 There are advantages to growing up on Cape Cod—the real one, not the touristy side. Delsie lives there on the Cape year-round with her Grammy, who runs a one-woman house-cleaning business and thinks Delsie hung the moon. Life is good, but more and more lately Delsie feels a hole in her heart where her mom and dad should be. She doesn't even know who her father is, and Mom is a subject Grammy doesn't like to talk about. At the beginning of summer, her best vacation friend Brandy arrives and the girls try to make plans. But Brandy has outgrown some of their old interests, and soon makes friends with Tressa, a classic mean girl.
Grammy is a bit preachy in her down-home way, but all the characters are well drawn (except for Tressa, who acts like a stereotype even if she isn't one). I would like to have seen one intact family among the main characters.
Cautions: small amount of omg profanity
Overall rating: 3.75
Sweeping up the Heart by Kevin Henkes. Greenwillow, 2019, 192 pages. For ages 11-14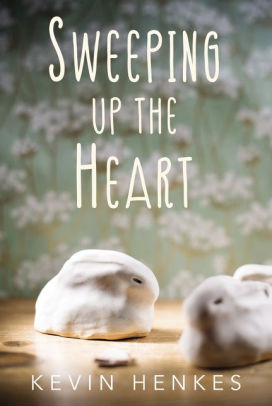 Since Amelia's mother died—so long ago Amelia doesn't clearly remember her—her college-professor father has grown more distant and uncommunicative. Now that summer's here a Florida vacation would be fun, but he's not up for fun, or anything else. Resigned to a boring summer at home, Amelia can at least spend more time at the pottery studio. There she meets Casey, the potter's nephew, who is staying with his aunt while his parents try to work out their troubled marriage. What should be his foundation is breaking up: "Life just keeps throwing things at you." Both come to terms through friendship, sympathy, and a mysterious woman who looks shockingly like Amelia's mother as remembered.
Short and sweet, the novel is most effective when showing Casey's devastation at his parents' impending divorce. Children who have gone through a similar trauma can relate. Amelia's conflicts may be resolved too easily, and a possible developing romance between the kids is implied. Right now they're just friends, though. Amelia's father is agnostic, and no meaningful spiritual dimension emerges.
Cautions: None
Overall rating: 3.5
Support our writers and help keep Redeemed Reader ad-free.