The Young Man's Guide to Awesomeness is a well-organized, humorous, straight-talking guide for young men as they mature into godly adults.
*The Young Man's Guide to Awesomeness: How to Guard Your Heart, Get the Girl, and Save the World by Barrett Johnson. INFO For Families, 2017. 158 pages.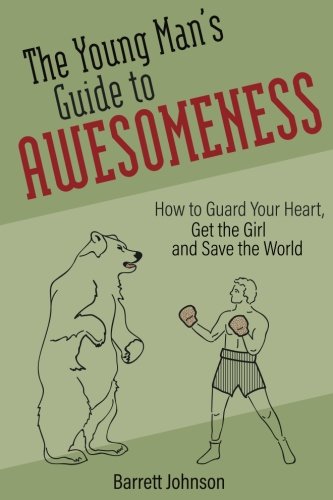 Reading Level: Teen, ages 12 and up
Recommended For: Upper middle grades and up (ages 10+)
Growing up is never easy. There are physical changes, emotional changes, social changes, intellectual changes…. And our American culture is increasingly confusing the issues: screens make porn a mere click away. Magazines in the checkout lines at the grocery store are lurid enough to make ME seek out the "Family Friendly" aisle where it's only candy, word searches, and impulse buys like tiny flashlights. Increasingly, the messages against "toxic masculinity" and the encouragement to boys to be delicate, effeminate, and wear skinny jeans are only confusing the issue further.
What's a guy to do? What are PARENTS to do? How do we encourage our young men to seek the Lord, grow up in obedience to biblical truth, and to be leaders of their future homes?
Barrett Johnson is addressing this very need in The Young Man's Guide to Awesomeness: How to Guard Your Heart, Get the Girl, and Save the World. Simple clip-art style illustrations, a very clear organizational structure, connections to the life of King David, discussion questions, and extra videos for each chapter make this a very easy-to-use resource. Johnson is a straight-talker, freely mentioning dangers of porn and premarital sex. But he also challenges guys to be men: to protect the girls and women in their lives, to strive after a real relationship with God (including bold confession of sin), and to guard their own hearts.
When dealing with things like sexual sin, we need to go hard on external boundaries and go easy on internal things like our identity. For example, to overcome sexual temptation, you might need some hard, firm boundaries in your life regarding your technology. You might need to do something radical like tossing your phone or ending a relationship. But you need a soft response when it comes to your identity. You need to be reminded that you are loved. You are good. You are forgiven.

~Barrett Johnson, The Young Man's Guide to Awesomeness


The "you are good" phrase is referring to the recent discussion in the book of God's grace and forgiveness, not a generic "goodness."
All in all, this is a great resource to have on hand for our young men. Johnson's humor is pitch perfect for young teenagers, and his questions are clear and direct. Boys younger than 12 can benefit, too, but much of this book is directed to teenagers.
Note: this is not a "puberty" book. There isn't discussion of how bodies are changing and things like that. The emphasis is on character, sexual purity, and growing up into a godly man. For more information, you can watch the Introduction video on Inforforfamilies.com.
Cautions: Sexual content (appropriately so!)
Overall Rating: 4.5 (out of 5)
Worldview Rating: 5
Artistic Rating: 4
For more resources on sexual purity, see "Straight Talk About the Birds and the Bees," our review of God's Design Bible study materials, and Rise by Trip Lee.
Thanks to INFO for Families for a review copy of this resource!
Please follow and like us: