In The Biggest Win, players from the 2018 Super Bowl championship team coach young athlete in winning the kingdom of God.
The Biggest Win: Pro Football Players Tackle Faith by Joshua Cooley.  New Growth Press, 2018, 158 pages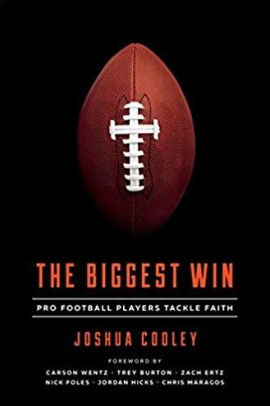 Reading Level: Teen, ages 12-15
Recommended for: ages 12-up
The story of the Philadelphia Eagles, last year's surprise Super Bowl Champions, is well told in Birds of Pray. The Biggest Win goes in depth about how the players got there—not the surface story, but God's story as told in the scriptures. Key Phillies players, namely Carson Wentz, Nick Foles, Zack Ertz, Trey Burton, Jordan Hicks and Chris Maragos, form the cheering squad for the young athlete with both spiritual and physical ambitions. The author interviewed them about specific topic related to a pro athlete's life, such as matters of discipline, training, teamwork, proper motivation, and winning and losing. Each chapter can be seen as a separate devotional, with ample scriptural support and discussion questions.
The Biggest Win is no lightweight, Jesus-and-me pep talk, but a deep dig into questions confronting Christians in any demanding profession. The author includes insights from the classics, like Charles Spurgeon and the Westminster Shorter Catechism, as well as sound gospel preachers like John Piper. Though geared toward "physical culture"—and making generous use of the many athletic metaphors in scripture–the principles are also applicable to young people who are aiming to be at the top of their field. It makes a great discussion guide, especially for guys in Christian sports camps, sports teams, or ambitious young quarterbacks.
Cautions: None
Worldview/moral value: 4.75 (out of 5)
Artistic value: 4
Overall rating: 4.5 (out of 5)
More than 75 books for children and teens, all about islands, oceans, and more. Bonus: get a free hand-drawn reading tracker!
Reading Ahead for You
Reviews and Resources Weekly in Your Inbox