Continuing our series from last Friday about children's books seen as contenders for the ALA's coveted Newbery medal.
The Truth As Told by Mason Buttle by Leslie Connor.  HarperCollins, 2018, 342 pages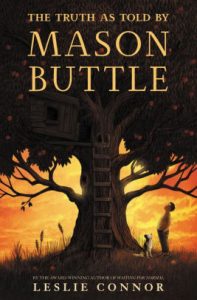 Mason, according to his Uncle Drum, has a trifecta of problems: he's large, he sweats a lot, and he doesn't do well in school.  Added to that, his mother was killed in a traffic accident.  And one more thing: his best friend Benny recently died after a fall from an apple tree, and the local police lieutenant suspects Mason knows more than he's telling. Mason has a hard time telling, especially when the stakes are high: the words crowd up in his throat and won't come out.  But the boy has a good heart within that unpromising exterior.  He also has strong advocates at home, and one teacher in his corner at school.  Now he has one new best friend, in the brainy-but-weird Calvin Chumsky.  Together they will embark on new adventures and unravel old mysteries.
Pro: The author introduces some truly memorable characters, including Mason's Grandma and Shayla, their permanent house guest who just showed up one day.  The story is suffused with hope that no matter how grim the circumstances appear, anyone can make a good life if they have love.
Con: Benny had two dads, now grieving his loss.  There are 3-4 misuses of God's name, but that's not surprising. Mason Buttle is an example of the "thank the universe" trend in children's literature, where hope and meaning is found in something other than a transcendent personal God.
Overall rating: 3.5
The House that Lou Built by Mae Respicio.  Wendy Lamb Books, 2018, 231 pages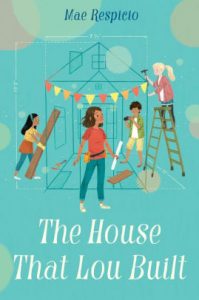 Lou's father was killed in an auto accident before she was born, but she has a legacy from him: a plot of land in Terra Vista Valley, just north of San Francisco  That's where, with her 13th birthday approaching, she plans to build a house.  Not sometime—now, with the help of her shop teacher's advice, salvage-yard bargains, muscle power from friends, and support from her tight-knit Filippino clan.  The project becomes a race against time as her mother applies for nursing jobs far from home (bills must be paid) and a tax deadline looms.  Lou's single-mindedness also taxes the loyalty of her friends.  Will determination and can-do spirit be enough?
Pro: The reader (this reader, anyway) simultaneously cheers for Lou and envies her.  Who wouldn't want a nice little piece of property on the California coast?  The story showcases the personal virtues of having goals and following through, while giving the value of family and community at least equal importance.  The family's Catholic faith plays a part as well.
Con: While checking the boxes of multiculturalism and girl-power, the story also slips in a same sex relationship between Lou's supportive shop teacher and his husband.  Her plans also involve lots of sneaking around and lying to her mother, and there are a couple instances of "omg" profanity.  Lou's mother was also pregnant with her when she married Lou's father.
Overall rating: 3.5
Merci Suarez Changes Gears by Meg Medina.  Candlewick, 2018, 355 pages.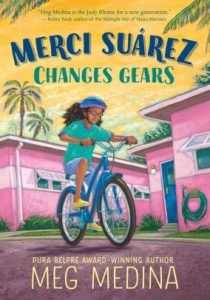 Sixth grade at Seaward Pines Academy might not be so bad for Mercedes Suarez, since it's her second year as a scholarship student following in the footsteps of her brilliant brother Roli.  Merci is smart, self-confident and loved by her extended Cuban-American family—even though that family, especially her pesky little cousins, takes up the time she would rather spend playing soccer.  Lolo, her abuelo, is the one person in the family who always has time for her, and her relationship with him is rock-solid and comforting.  Until it isn't, because Lolo is changing in ways that seem very unlike him.  And no one will tell her what's going on.
Pro: Character development is outstanding, especially among the Merci's family—each member with flaws and quirks, but no doubt of their love for each other.  I like that Merci doesn't feel ashamed of their lack of funds . . .
Con: But she does complain a lot, even about chores that don't seem so onerous, like being a "Sunshine Buddy" at school for a new student.  Granted, the story is about "changing gears" and finding a new attitude, but the old attitude gets very tiresome at times.  The worldview is secular, with little room for religious faith, even given the family's Catholic heritage.
Overall rating: 3.5
Dactyl Hill Squad by Daniel Jose Older.  Scholastic, 2018, 256 pages.
Magdalys Roca doesn't remember her arrival in the US.  All she knows is, she was brought here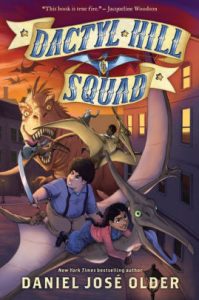 from Cuba with her brother and two older sisters and deposited in the Colored Orphan Asylum of Manhattan.  Now her sisters are gone—probably kidnapped and sold down south—and her brother has joined the Union army to search for them.  On a hot night in July 1863, Magdalys discovers that she has an unsuspected ability to communicate with the dinosaur population of New York City.  Most of these lizards are in domestic service and docile enough.  But when a massive uprising against President Lincoln's new draft order breaks out, a dino whisperer proves to be a valuable asset in defense of the city's black population.  Magdalys and her friends from the asylum learn that even kids can fight for justice, especially when mounted on pterodactyls (winged reptiles).  The Dactyl Hill Squad is born!
Pro: Alternative history takes a very imaginative turn in this series opener (Book Two, Freedom Fire, appears this May).  What kid doesn't love dinosaurs?  As an action-packed historical fantasy the book is fun, but—
Con: The serious (and true) events depicted don't warrant a fun treatment.  Something feels off about these bloody and tragic incidents as seen through the dino-mounted derring-do.   Some critics have praised the way "history comes alive" in Dactyl Hill Squad, but it's more like history takes a trip to Universal City Theme Park.  There's also some contemporary social relevance: one character rather arbitrarily identifies as the opposite gender midway through the story, making me wonder who else is going to come out or change gender in the course of the series.  The wise-cracking 21st-century slang of the characters feels way off, too.
Overall rating: 3
Other books are on the Newbery radar—check back for our series of buzz posts, where we talk about the ones we like—or don't, so much.
More than 75 books for children and teens, all about islands, oceans, and more. Bonus: get a free hand-drawn reading tracker!
Reading Ahead for You
Reviews and Resources Weekly in Your Inbox