Janie and Megan talk over one of the most impressive books we read this year: The Faithful Spy: Dietrich Bonhoffer and the Plot to Kill Hitler.
Janie: Dietrich Bonhoeffer is a name most Evangelicals know—or should know.  In the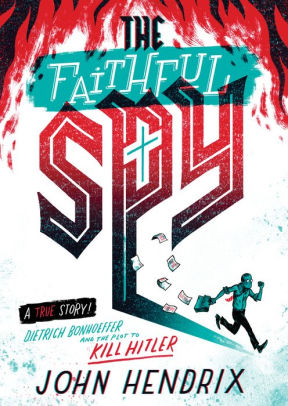 past five years at least two important biographies have appeared, one of them by Christian author and commentator Eric Metaxes.  There was even a biography for young readers published three years ago: The Plot to Kill Hitler by a popular YA author.  Bonhoeffer is easy for non-Christians to admire because of his stance against the Third Reich and Adolph Hitler (everybody's all-purpose evildoer).  But The Faithful Spy, unlike biographies by secular authors, gives away its focus by the title: Bonhoeffer was motivated by his faith more than anything else.  That's one aspect that sets it apart.  Another is its graphic format.  John Hendrix, the author, is better known as an illustrator.  He's also a Christian.  In my starred review, I said it's not like any biography I've ever seen.  Then I tried to describe it!  How would you describe it, Megan?
Megan: It's like reading a documentary more than a graphic novel because it is packed with text not limited to frames, and because Hendrix uses equal parts showing and telling. He does an especially wonderful job with imagery and metaphor, like rats sneaking into a crack in the foundation of the Reichstag building or a wolf representing Hitler.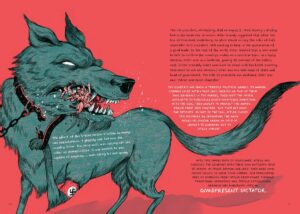 Janie: I was impressed by the same things.  For another example, one double-page spread symbolically represents Germany's decline from the stability of the early 20th century through the disaster of the Great War, then into the postwar years when Germany tried to gain her feet and reassert herself on the world stage.  It gives the reader a literal picture of how an opportunist like Hitler was able to take advantage of his country's instability to seize power.
Here's another question, that may not be as obvious as it seems: What does John Hendrix's faith bring to this subject?
Megan: Janie, when an author shares a passion with his subject, his skills really shine. Because Bonhoeffer wrestled with his faith and working it out to the glory of God in the time and place in which he lived. It seems that Hendrix is wrestling with some of Bonhoeffer's questions. What would I do in his place? Whether or not he would join an underground revolutionary assassination movement, he obviously admires Bonhoeffer for acting faithfully on his convictions. This brings to mind my recent reading of A Christmas Carol and Les Miserables, and how we are called to lighten the burdens of those who are suffering. Bonhoeffer strived to do that in his time, Hendrix admires that, and the reader is compelled to respond.
Janie: I sensed that, too: a strong undercurrent of the question, "What would I do?" in a similar situation.  Hendrix says that his most valuable source material was Bonhoeffer's own "Letters and Papers from Prison."  We should point out, too, that much of the material is directly quoted from Bonhoeffer's own writings (all noted with an asterisk and footnotes).  The books adds up to a surprisingly detailed and comprehensive account not only of Bonhoeffer's life and faith, but of Germany, Hitler, and the course of the war—all in 167 pages!
The part I found most moving was toward the end, when he was a prisoner knowing the war would soon be over but unsure if he would survive it.  At various times in his life he felt his faith to be weak or uncertain, but toward the end he began to doubt if God heard him—or if God even existed.  I think this is valuable for us to know: even the great "heroes of faith" experience doubt and even despair.  We have evidence of that in Paul's writings.  But Dietrich's life did not end in despair, and the last three pages brought tears to my eyes.  What part was the most moving or memorable to you, Megan?
Megan: Those last three pages are amazing. I wasn't clear whether that was recorded in Bonhoeffer's writings or if that was Hendrix's creative speculation. Do you know, Janie?
Janie:  The dream was creative speculation, but the author gathered some of the imagery from letters Bonhoeffer wrote from Tegal Prison (his next-to-last incarceration).  The last quote is his final recorded words, spoken to a friend as he was taken to Flossenburg Prison (where he was executed).
Megan: Compared to another graphic novel biography I recently read about a hero whose feet were left with clay, Bonhoeffer's Christian hope was refreshing. I was also moved by the support from his family and the woman he loved and how they encouraged him in prison through books, jam jars and secret messages. This is such a multi-faceted story that ends in joy—in spite of the outcome of the conspiracy.
That sums it up for both of us, I think!  Next, Betsy and Janie will be talking over a very buzzy book we haven't reviewed yet: The Parker Inheritance.  And watch for our interview with John Hendrix, to be posted later this month!
Support our writers and help keep Redeemed Reader ad-free.