Vera König must decide if she can trust the enemy in this moving, true Holocaust story of a Christian in Hitler's camps.
Courage in the Face of Evil by Mark Shaw. Crosslink Publishing, 2018. 263 pages.
Reading Level: Adult, Ages 16 and up
Recommended For: Teens and adults, ages 14 and up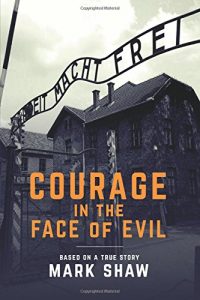 Vera gets "special treatment" in Hitler's camps because she is a political prisoner, not a Jew. "Special treatment" is still not something anyone would sign up for, but it does up her chances of survival slightly. Vera's crime? She's a Christian and spoke out against Hitler. Her race? Aryan/German. Once inside the camp, Vera makes a few friends; together, they do everything in their power to mitigate suffering wherever they can. Assigned to the clinic, Vera demands, begs, and steals what supplies she can to help ease her patients' discomfort. If someone, particularly a child, is marked for the gas chambers, she and her friends will fabricate records or hide children when possible. One day, a young girl is in desperate need, and the only one Vera can turn to is a Nazi worker at the camp. He implies that he knows what she's already done and that he can help. But he's a Nazi! Can she really trust him?
Based heavily on a true story, this is written as if Vera is recounting her own experiences. She clings to the Lord, doubting, questioning, and pleading with Him as she struggles to make sense of her life and Hitler's plans. The Hiding Place is, undoubtedly, the standard for a Christian testimonial of God's work in such horrid conditions, but Vera's story is an interesting companion work for those already familiar with Corrie Ten Boom's work. Courage in the Face of Evil lacks some of the spiritual depth of The Hiding Place and is not quite as well written, but readers will be captivated, and it should raise thought-provoking questions about our response as Christians to suffering, to evil authorities, and to our neighbor.
Cautions: violence, some language (nothing unexpected given the setting/circumstances)
Overall Rating: 4
Artistic Rating: 3.75
Worldview Rating: 4.25
See also our Heroes of WWII Booklist for more ideas!
This book was provided free of charge in return for a fair review.
Reading Ahead for You
Reviews and Resources Weekly in Your Inbox