In Brangwain Spurge, two idiosyncratic writers team up to tell a story of mutual misunderstanding from distinct perspectives.
The Assassination of Brangwain Spurge by M. T. Anderson, illustrated by Eugene Yelchin.  Candlewick, 2018, 526 pages.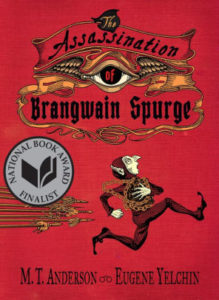 Reading Level: Teen, ages 12-15
Recommended for: ages 10-up
Brangwain Spurge, an elven historian, has been selected by his former school chum Ysoret Clivers for a special diplomatic mission to the goblin capital of Tenebrion.  He'll be packed in a barrel and shot by crossbow over the Bonecruel Mountains, hopefully (!) to arrive in one piece.  There he is to be the guest of a fellow historian, the Archivist Werfel.  Spurge's stated goal is to present a priceless goblin treasure to Ghohg the Protector (the mysterious head of state) as a means of initiating better relations between goblins and elves.  His host Werfel is looking forward to a warm cultural exchange tween scholars, but Spurge is proud and aloof, looking only for an opportunity to carry out his secret spying obligations.  Unbeknownst to both, there's an even more secret mission (hinted at in the title), which will catapult our main characters into a vortex of intrigue.
An interesting author (see our review of Landscape with an Invisible Hand) teams up with an interesting author-illustrator (Breaking Stalin's Nose, Arcady's Goal) to present this entertaining story of culture clash and misunderstandings.  Much in the manner of Brian Selznek's Hugo Cabret, scattered picture sequences help tell the story, but only from Spurge's point of view.  The text portions alternate between manipulating mastermind Clivert and generous-hearted Werfel.  Over these perspectives, the actual story comes into focus and readers will enjoy the ironies and contradictions that emerge—and eventually resolve.  The book is getting wild reviews and Newbery buzz.  Though not profound, it's a fun and interesting read that makes a good point about respecting other cultures and tolerating differences.
Cautions: violence (more or less comic)
Overall Rating: 4 (out of 5)
Worldview/moral value: 3.5
Artistic value: 4.5
Please follow and like us: