Three well-received picture books take on expansive subjects like Love, Imagination, and the Beginning of Everything
Imagine! by Raul Colon.  Simon & Shuster, 2018, 40 pages
In the afterward of this wordless picture book, Raul Colon describes how he visited the Metropolitan Museum of Modern Art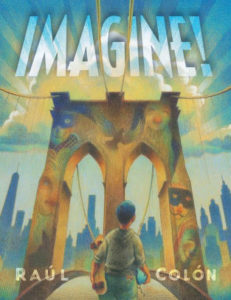 for the first time and feasted his eyes on Van Gogh's Starry Night: "Even though I was an adult, I reacted like a child."  The child he had once been, that is: born in Puerto Rico, growing up in New York City, devouring comic books and drawing constantly.  But modern art blew him away.  "The emotions I felt were overwhelming."  Other modern masters captured his imagination: Picasso, Rousseau, and Matisse.  The pictures follow a young boy much like Colon, visiting the museum for the first time and reacting as the illustrator did.  Figures from some favorite paintings come out of their frames and join him for a wild afternoon on the town, after which the boy can't rest until he's created some art of his own with colored chalk on a wall.  Colon's distinctive, almost-impressionistic style gets lavish full-page (or double-page) treatment, and if you don't like modern art, you may come to appreciate it just a little more.
Love, by Matthew de la Pena, illustrated by Loren Long.  Putnam, 2018, 40 pages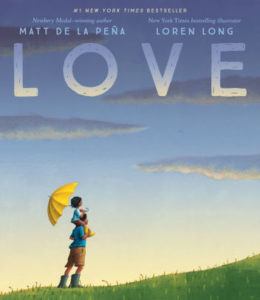 In the beginning there is light/ and two wide-eyed figures standing/ near the foot of your bed,/ and the sound of their voices is love.
Everybody starts with love—it's the little enjoyments and juicy hot dogs and hilarious moments that make up our early years and sizzle in our memories.  The rich illustrations start with happy scenes, but bad things do happen, like house fires and the breakup of friendships and marriages.  Bad news happens, and bad dreams, but love abides in the arms you find wrapped around you when you wake up crying.  In short, love is all around even though we may not always recognize it, and when a child is ready to launch out on his own he'll have love to take along with him.  "Love" is an overused word and may sound more like a mantra to a small child who doesn't yet know its depth.  And our days are not as beautifully illustrated and color-burnished as this book.  But the central idea is true: love surrounds us, though for clarity's sake we can call it Grace.
The Stuff of Stars by Marion Dane Bauer, illustrated by Ekua Holmes.  Candlewick, 3028, 40 pages.
Recommended for: ages 7-12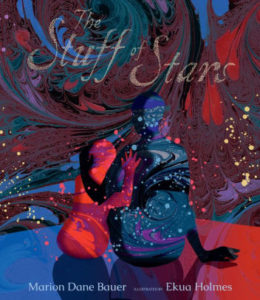 In the dark/ in the dark/ in the deep, deep dark/ a speck floated, invisible as thought,/ weighty as God./ There was yet no time,/ there was yet no space./ No up,/ no down,/ no edge,/ no center.
Then the Big Bang happened.  This is science's best guess, so far, of how the universe came to be.  One impossibly dense particle exploded, creating light, stars, ash that coagulated into planets, and finally one blue sphere just the right distance from its sun to turn into a mitochondria factory: "Again and again/ stardust/ gave birth/ to stardust."  Dinosaurs come and go, humans emerge, generations live and die, all the way down to "you": the person reading this book, or having it read.  Little minds are not going to take in these big ideas and the only way to illustrate them is by swirling patterns from which recognizable silhouettes emerge.  God is a possibility in this scenario, but not a necessity.
Support our writers and help keep Redeemed Reader ad-free.