Adrian insists that he has a horse, but Chloe argues the obvious facts until she learns to see through his eyes.
*Campbell, Marcy. Adrian Simcox Does NOT Have a Horse. Ill. By Corinna Luyken. Dial Books for Young Readers, 2018.
Reading Level: Picture book, ages 4-8
Recommended For: Ages 4-8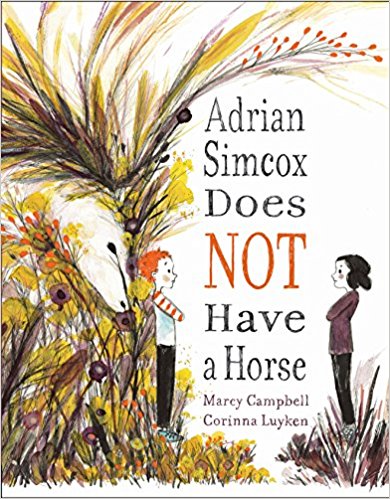 Adrian Simcox has an imagination as vibrant as his hair, much to the annoyance of his classmate, Chloe. Why does he insist that he has a horse, when everyone knows he is too poor and lives in town with his grandpa in a tiny house with no yard? Chloe's patience is exhausted and she complains to anyone who will listen until her mother invites her to go on a walk to face the situation in person.
Outstanding illustrations suggest magnificent horses among the messy reality Adrian lives in, while Chloe's irritation is credible. Not a word is wasted in this gracious tale of learning compassion and the humility of seeing through your neighbor's eyes.
Cautions: none
Overall Rating: 5
Artistic Rating: 5
Worldview Rating: 5
More than 75 books for children and teens, all about islands, oceans, and more. Bonus: get a free hand-drawn reading tracker!
Reading Ahead for You
Reviews and Resources Weekly in Your Inbox