John McCain had more guts and more patriotism than most of his American contemporaries–read all about him in this detailed young adult biography.
John McCain: An American Hero by John Perritano. Sterling, 2018. 192 pages.
Reading Level: Young Adult, Ages 12-15
Recommended For: Young adults and history buffs, ages 12+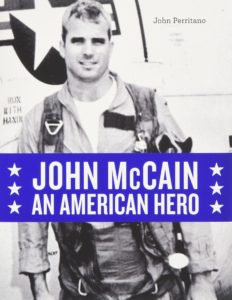 John McCain left his mark on American politics of recent years. Although this book was published before McCain's recent death, it covers nearly all of McCain's high octane life. From the legacy of his father and grandfather (both decorated Navy men) to his own impressive Navy career to McCain's harrowing experience as a POW in Vietnam, to McCain's growing prominence in the political sphere, Perritano chronicles the life of a man of marked inner strength. His passion for his country set him apart, particularly during the Vietnam War years and later during the political infighting that has characterized American politics of late. McCain was a man of unusual spunk and determination, and his impressive career gives abundant testimony to this man's passion and conviction.
McCain's life should make for a riveting biography–and in parts, this one is. A somewhat tedious family background during the first few chapters may give unmotivated young readers pause, but the rest of the book is worth the effort of the first journalistic chapters. A detached reporting style helps readers maintain some emotional distance once McCain's years as a POW in Vietnam are described. Pictures aren't exceptionally graphic, but it is hard to minimize just what he endured in an effort to faithfully portray his character. Sensitive young readers, particularly those under age 12, may wish to wait on this biography for a year or two. Nonetheless, those willing to persevere through his hardships can hardly help being impressed at McCain's sheer grit and conviction to remain faithful to his country. His religious beliefs are alluded to at times, but the author shies away from any real commentary on this part of McCain's life. A hero, McCain definitely was.
Cautions: violence (particularly that of the POW camp)
Overall Rating: 4.25
Artistic Rating: 4.0
Worldview Rating: 4.25
More than 75 books for children and teens, all about islands, oceans, and more. Bonus: get a free hand-drawn reading tracker!
Reading Ahead for You
Reviews and Resources Weekly in Your Inbox