A cryptic aside in a medieval letter is the springboard for this charming story of a monk, a manuscript, and a bear.
*Brother Hugo and the Bear by Katy Beebe, illustrated by S. D. Schindler.  Eerdmans, 2014, 28 pages.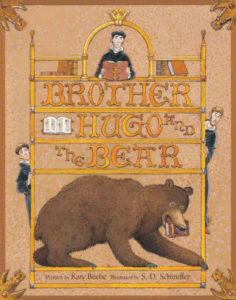 Reading Level: Picture Book, ages 7-10
Recommended for: ages 5-up
Brother Hugo is in the kind of trouble any booklover can relate to.  The Abby's copy of the Letters of St. Augustine is due to be returned to the library and Brother Hugo doesn't have it.  It seems a bear ate it.  "Truly the words of St. Augustine are as sweet as honeycomb to me.  But I am afraid they were much to sweeter to the bear."  Upon Hugo's confession, the Abbot prescribes a fitting penance: the erring monk must travel to Grande Chartreuse, ask for their copy of the letters, bring it back and copy it during Lent.  Hugo's journey goes without incident except for the ominous snufflings and lip-smackings behind him.  Once he returns home with the manuscript, the daunting task of copying it awaits him, but his fellow monks offer help and advice.  Finally a beautiful new copy is finished and the old copy must be returned to Chartreuse.  But by now it's spring and the bears are stirring . . .
The story is based on a letter dating from 12th century France, noting the Abbot's regret that a large part of their volume of St. Augustine's letters was eaten by a bear.  So Hugo's adventures could have happened, but the story takes place in the fascinating context on monastery life and the beautiful, painstaking work of manuscript production and preservation.  The artwork captures some of the ambiance with ornate capitals and echoes of medieval illumination. The Middle Ages were not stagnant, as is so often supposed, but a time of steady technological advance and social change.  The printing press was just around the corner, but in the meantime, nameless monks toiling with chapped fingers passed on knowledge in beautiful books.  This beautiful picture book is a tribute to them.
Cautions: None
Overall Rating: 5 (out of 5)
Worldview/moral value: 5
Artistic Value: 5
More than 75 books for children and teens, all about islands, oceans, and more. Bonus: get a free hand-drawn reading tracker!
Reading Ahead for You
Reviews and Resources Weekly in Your Inbox