A squirrel with a mind of his own navigates the seasons of his first year in this gentle animal story.
Toaff's Way by Cynthia Voight.  Knopf, 2018, 256 pages
Reading Level: Middle Grades, ages 8-10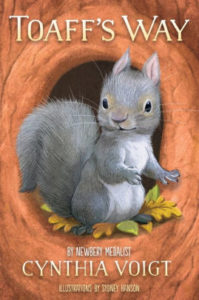 Recommended for: ages 5-10 as a read-aloud, 8-12 as a read-alone
Squirrels like to talk more than they like to listen.  That because they know what they know, and won't be persuaded otherwise (though, to be fair, mice aren't much better).  Toaff, however, is a different bundle of fur: occasionally he listens, meaning he learns things.  Learning becomes a necessity when a winter storm blows down the pine tree he was born and raised in.  Shortly after, not even the nest he managed to salvage is left after a human brings a screeching machine to cut the tree in pieces.  Forced to find a new home, with or without his siblings, Toaff becomes an "only" literally, not just within his little squirrel brain.  Weather can be fierce, food can be scanty, and there are always predators about.  But at the same time, there is sunshine and new things to learn and more trees to leap: "Sometimes everything was so wonderful all you could do was wuffle."
Getting inside the mind of a squirrel is a challenging proposition, and since their world isn't overly large the narrative lags from time to time.  But ripples of delight often stir this little story.  Also flashes of recognition: if squirrels could think, they would probably think like this.  Quiet charm, appreciation for nature, moments of real danger and a satisfying conclusion make this a good read-aloud choice for lower elementary grades.
Cautions: None
Overall rating: 4 (out of 5)
Worldview/moral value: 3.5
Artistic value: 4.5
Support our writers and help keep Redeemed Reader ad-free.