How a sensitive boy handles death and guilt is the subject of The Dollar Kids: one of our "discussion starter" titles.  Ages 10-15
The Dollar Kids by Jennifer Richard Jacobson.  Candlewick, 2018, 403 pags.
Reading Level: Middle grades, ages 10-12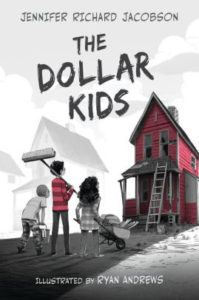 Recommended for: ages 12-15
Lowen's ambition is to draw comics, and he takes it seriously.  So seriously that his neighbor Abe seriously annoys him with irrelevant comments and suggestions.  That's why Lowen gave him allowance money and sent him out to buy candy so he could work in peace.  Of course he never suspected that Abe would be one victim of a deranged teenage gunman.  Lowen has never told anyone how Abe came to be on the scene, and now he's consumed with guilt.  So the offer from Millville, a small depressed community a six-hour drive from the city, seems like the promise of a new start.  The town is offering five foreclosed "fixer-upper" homes for one dollar each to families who qualify.  Dad, a nurse-practitioner, could open a clinic, Mom could open a restaurant, 16-year-old Clem could get some playing time on the basketball team, and Lowen could get a change of scene.  Will it help?  And will the family be able to restore their house to building-code standards by the deadline?
Two major themes here: 1) city vs. community and adjusting to a new life; 2) what to do with guilt.  It's not enough to assure Lowen that Abe's death is not his fault—he still feels the stab of "what if," even after a change of scenery.  Creating comic strips become the way to wrestle with his feelings—they appear scattered throughout the text—this time with Abe as a character.  Does Abe still exist in some alternative reality?  And if he does, what about his killer, Oliver?  What would happen if the two met in the afterlife?  And is there an afterlife?
Dollar Kids is instructive in how the secular world deals with guilt and death.  Essentially, it's the same way John Green deals with it in The Fault in Our Stars—finding comfort, community, and beauty in this world, and extending those feelings to the world beyond, if there is one.  Lowen certainly benefits from a close and supportive (if not always understanding) family, but what if his comfort was based on something other than vague hopes?  (See more discussion questions below)
Cautions: Worldview (secular; one same-sex couple as minor characters)
Overall Rating: 3.75 (out of 5)
Worldview/moral value: 3.5
Artistic value: 4.5
Discussion Questions:
Is Lowen right to feel guilty for Abe's death?  How would you feel in the same situation?
Read I Thessalonians 4:13-18.  What do you think Paul means about "those who have no hope"?  How is the grief of a Christian different from the grief of an unbeliever?
More than 75 books for children and teens, all about islands, oceans, and more. Bonus: get a free hand-drawn reading tracker!
Reading Ahead for You
Reviews and Resources Weekly in Your Inbox